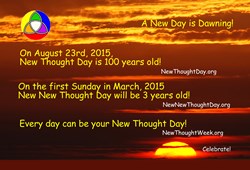 "The truth, once announced, has the power not only to renew but to extend itself. New Thought is universal in its ideals and therefore should be universal in its appeal ... until it embraces ... the whole world." New Thought Day, August 23rd, 1915
(PRWEB) August 21, 2013
On August 23rd, 1915, International New Thought Alliance President James A. Edgerton proclaimed "New Thought Day" saying: "The truth, once announced, has the power not only to renew but to extend itself. New Thought is universal in its ideals and therefore should be universal in its appeal. Under the guidance of the spirit, it should grow in good works until it embraces many lands and eventually the whole world."
Today there are millions of New Thought adherents around the globe. These independent minded folks are not "joiners". They don't like labels, are unimpressed by branding, and unlikely to become members of religious "organizations". Educated and self educated souls, they live and walk their respective spiritual paths, taking an active role in creating the lives they desire through the use and teaching of Spiritual Tools that some call the Keys to Heaven. These tools can be explored online at http://www.NewThoughtLibrary.com .
In 2008, Volunteer New Thought Leaders working in the New Thought Archives, discovered Edgerton's proclamation about New Thought Day.
New Thought Day and New Thought Week have been shared on New Thought Library's Home Page ever since.
Today's New Thought Seekers are characterized as "Cultural Creatives". Cultural Creatives are usually defined as "leading-edge thinkers ... writers, artists, musicians, journalists, therapists, feminists, alternative health care providers, professionals who work and care about the people they work with. These spiritually minded, independent thinkers, believe in Human Rights, responsibility and accountability, are life long learners who use Spiritual Tools and maintain that our beautiful planet is a gift which is a legacy to be passed on to the generations to come.
New Thought Sharers are Cultural Creatives who desire "equality for women/men in business, life and politics, support the well-being of women and children, the provision of quality public education for all people, and believe that together we can and should create an ecologically sustainable future with opportunities for all, and new and better ways of living in harmony with the land".
Various teaching organizations in New Thought include: Michael Beckwith's Agape International Spiritual Centers, CSL, New Zealand's DivineUnity, Dr. Angelo Pizelo's Emerson Institute, Atlanta's Hillside International Truth Center, Global Religious Science, Independent Science of Mind, World Religious Science, Unity Church Nigeria and USA. Whereas the largest denomination is Seicho No Ie, the fastest growing New Thought denomination is (UFBL) Universal Foundation for Better Living founded by Johnnie Coleman.
A comprehensive list of New Thought centers, their meeting times and locations can be found at the Universal New Thought Directory: http://www.FindACenter.com
These resources and more are maintained by Serving New Thought volunteers, comprised of the best of New Thought Leadership from around the globe. These Spiritual Leaders "walk the talk", demonstrating the truth of these teachings, while providing support to both colleagues and seekers around the globe. A growing number of these outstanding New Thought leaders are featured at DivineJournal.com.
For New Thought Day's 2013 anniversary, we are sponsoring a poster / postcard design contest for the 99th Anniversary of the original and traditional New Thought Day in 2014.
The theme for 2014 is "Universal Declaration of Human Rights, Diversity is Power"