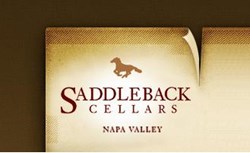 San Francisco, CA (PRWEB) August 21, 2013
In August, Saddleback Cellars will be announcing some exciting wine club updates for their upcoming October Posse club release, including the debut of their newest blend, Posse Red. In addition, Saddleback Cellars is going to have a wine club member pick-up party the first weekend in October (Saturday, Oct. 5, from 1 to 4 p.m.).
The winery will now be offering a three-pack membership along with more varietals in their Posse club shipments. The October club shipment will include their Yountville, Napa Valley 2010 Malbec, along with the new blend, Posse Red, and the mouth-watering Los Carneros, Napa Valley 2012 Vermentino.
"We are also pouring and participating at the third annual Napa Valley Film Festival from Nov. 13 to 17. We are currently scheduled to pour at the Wine Pavilion tasting event featuring Oakville and Yountville Regional Wines on Friday, Nov. 15 from 2 p.m. to 5 p.m. The NVFF Yountville Wine Pavilion will be located at V Wine Cellars in the V marketplace," Barbara added.
Rustic and modest, Saddleback Cellars, the premier vineyard in the wine region, takes its name from Saddleback Mountain located in Orange County, California where Nils Venge was born and raised. Established in 1976, the first vintage was released in 1982 and we became a bonded winery one year later. The winery is owned and operated by Nils Venge and his family. There are 17 acres of prime Oakville fruit on property. Saddleback Cellars is proud of its diminutive stature and being one of the most relaxing 'boutique' wineries in the Napa Valley.
For more information about Saddleback Cellars' upcoming events, to schedule tasting or other offerings, call 707-944-1305. To view the winery on the web, visit http://www.saddlebackcellars.com . Saddleback Cellars is located at 7802 Money Road in Oakville.
About Saddleback Cellars
Saddleback Cellars is an appointment-only Napa Valley winery located in the city of Oakville. Owner and winemaker Nils Venge, "King of Cabernet", produces amazing wines from the grapes grown on their estate vineyard, including Cabernet Sauvignon, Chardonnay, Pinot Blanc, Pinot Grogio, Merlot and Zinfandel. They also run a tasting room for the public to experience their wines.