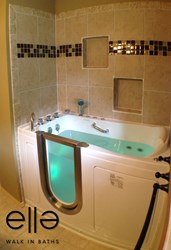 The professional installer will be there every step of the way until the customer is completely satisfied
Chicago, IL (PRWEB) August 22, 2013
Ella Walk in Baths, recognized for their acrylic walk-in bathtub development, production and distribution for USA and Canadian markets, recently partnered with a professional installation team to help streamline the customer experience and take the pain out of the installation process.
"We are essentially providing our customers with an onsite project manager and professional installer, dedicated to organizing and coordinating the full installation of their purchase from start to finish," stated Vice President of Marketing, Tory Ruohonen. "The professional installer will be there every step of the way until the customer is completely satisfied."
Here are just a few of the benefits the customer can expect with the fully licensed and insured installers:

A professional project manager will be assigned to the purchase.
An installer will open and inspect the purchase on site and explain the process.
The installer will advise of any and all permits and code requirements needed for a successful install, and will even contact the city on your behalf if needed.
The electrical components will be installed within as little as 10 days of purchase.
Full install will be performed within 21 days of installation purchase.
There will be a cleaner, safer installation with a reliable and trustworthy onsite team that will only take 1-3 days to complete.
All Ella Products will be eligible for this service. There are no restrictions on which Ella Walk in Bath model or Ella Walk in Shower model is selected for the installation.
Customers who would like more information should visit http://www.ellasbubbles.com or contact a customer service representative at: 1-800-480-6850.
About Ella's Bubbles, LLC
Ella's Bubbles, LLC, (http://ellasbubbles.com) based in Chicago, Illinois, is a nationally distributed OEM manufacturer of acrylic walk in baths and accessible showers. Ella's Bubbles is committed to providing exceptionally manufactured products at a competitive price, while consistently providing quality customer service.
Tory Ruohonen
1-800-480-6850
tory(at)ellasbubbles(dot)com