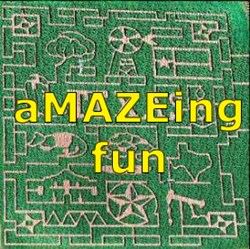 The best corn mazes and fall festivals set the pace with educational activities and unique additions to harvest time family fun.
Tampa, Florida (PRWEB) August 22, 2013
The 12 of the best corn mazes and fall festivals in North America offer pathways through 10-foot corn stalks, plenty of pumpkins and great things to do outside with kids. The newest agri-adventures include ziplines, orbs, viewing towers, and secret tunnels.
Corn mazes and harvest festivals are perhaps the most American of all seasonal celebrations offering ways for parents to get outside and share in the fun of rural life. In the past few years, the iconic experience has evolved adding more interactive ways to share in the fun. The most popular activities include goat walks, pig races, pig painting, secret tunnels, gemstone mining, and nifty barrel-train rides. Many locations have created night time maze adventures adding an extra dimension to the agri-adventures.
From corn texting to GPS scavenger hunts, weekend fun with the kids may even demand a 4G connection to help tech-savvy families navigate challenging mazes in search of clues to a game or puzzle over the meaning of CORNundrums.
According to Nancy Nelson-Duac, Curator of the Good Stuff for theFamilytravelFiles.com, "The best corn mazes and fall festivals set the pace with educational activities and unique additions to harvest time family fun. The locations offer parents plenty of energizing things to do outside with kids." For example:
The Texas Maze agri-adventure at Dewberry Farm near Houston includes an interactive corn maze includes dozens of "CORNnundrums" and a corn-cierge to facilitate the fun plus corn cannons, calf roping, and singing chickens.
Dell'Osso Family Farm Corn Maze near Lathrop, California has a corn maze large enough to be viewed from orbit. Along with the maze challenge they have pumpkin blasters, zip lining, aerial ropes course, and a plank plunge.
One of the largest corn mazes on the planet is at Richardson Adventure Farm in Spring Grove, Illinois not far from Chicago. Agri-entertainment activities include a 50-foot high viewing tower, zip lining, and a Zorbing adventure inside an 11-foot orb.
An agri-adventure at Marni Farm near Ipswich, MA includes 10 miles of pathways and hundreds of questions to be answered plus a larger-than-life spider web challenge, apple cannons, and thousands of pumpkins.
Hopcott Farms in British Columbia has created an interactive maze within a 15-acre field of corn using GPS coordinates. This is the place for pumpkin bowling, pig painting, and a free standing, water-filled, interactive cranberry bog.
For a complete list of the best corn mazes and fall festivals in the US and Canada checkout the aMAZEing Fun folder at theFamilyTravelFiles.com.
More terrific family vacation ideas may be viewed at theFamilyTravelFiles.com or for the latest family travel news follow The Family Travel Files on Twitter (@FamTravelFiles) straight from the homepage.
About theFamilyTravelFiles.com. Founded in 1998, theFamilyTravelFiles.com researches and posts the good stuff making it easier for parents or grandparents to plan great family vacations. The top-rated online family travel resource offers more than 1000 pages of family vacation ideas and trip planning information. The website specializes in destination and planning information, family travel advice, and family travel deals. The site features a number of vacation idea folders including the newest – Ren Faires, and popular favorites - Secret Places, All Inclusive, Reunions, SnowPlaces, and Away for the Holidays.