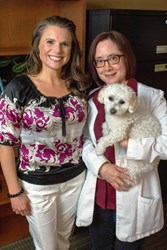 I am thrilled to join Karen and Tinks as part of petspage.com. As a Vet Pro I hope to offer invaluable information regarding veterinary internal medicine, both the common and the unusual and/or rare conditions that pets suffer sometimes suffer from
Boise, Idaho (PRWEB) August 21, 2013
Karen Bostick, creator and CEO of PetsPage.com, today announced that Dr. Victoria Ochoa, DVM, MS, DACVIM (small animal veterinary internist) is one of PetsPage.com's newest veterinary specialist Vet Pros.
In addition to sharing valuable information to pet lovers on her Vet ProPage, Dr. Ochoa will also act as a PetsPage.com media spokesperson in many areas of veterinary internal medicine. Small Animal Internists have extensive experience treating diseases affecting the lungs and thoracic, kidneys, intestines, and abdomen. In addition, Small Animal Internists have cross-training in cardiology, oncology, and neurology and have greater knowledge of unusual, uncommon, or rare conditions.
PetsPage.com is a social pet community whose primary mission is to increase pet owner awareness of veterinary specialty medicine, which can quite literally save pets' lives though advanced veterinary care.
Dr. Victoria Ochoa, DVM, MS, DACVIM is a graduate of UC California, Davis with a degree in Zoology. She received her Doctorate in Veterinary Medicine from University of Missouri Veterinary College in 1994. She completed a rotating medical and surgical internship at Mississippi State University, followed by a three year residency in small animal internal medicine at the Ohio State University Veterinary Teaching Hospital. While she enjoys all aspects of internal medicine, particular areas of interest are feline medicine, endoscopy, gastroenterology, and liver and kidney disease.
In addition to gastrointestinal, nasal, and respiratory endoscopy, Dr. Ochoa routinely performs advanced scoping diagnostics such as cystourethroscopy.
Dr. Ochoa is a Diplomate of the American College of Veterinary Internal Medicine (DACVIM). As a board certified small animal internist, Dr. Ochoa has the distinction of being one of only 1,180 active professionals worldwide. To become board certified, Diplomates must complete the four year Doctor of Veterinary Medicine degree, as well as an internship and residency in their specialized field (an additional 3-5 years training). In addition, Board Certified Veterinary Specialists must pass rigorous examinations to achieve Board certification from the American College of Veterinary Medicine (ACVIM).
"I am thrilled to join Karen and Tinks as part of petspage.com. As a Vet Pro I hope to offer invaluable information regarding veterinary internal medicine, both the common and the unusual and/or rare conditions that pets sometimes, unfortunately, suffer from as well as the wonderful lifesaving veterinary treatments available. There are incredible advancements in veterinary medicine that will empower pet owners to keep their pets happy and healthy," said Dr. Ochoa.
"I am honored Dr. Ochoa has joined us at PetsPage.com in sharing her expertise in veterinary internal medicine. She is one amazing veterinary internist. I am forever grateful that she was able to save my beloved Tinks' life with her expertise and training in state-of-the-art advanced veterinary treatments. PetsPage members and the media will benefit greatly from Dr. Ochoa's knowledge and training in treating many rare and unusual pet diseases," said Karen Bostick, founder and CEO of PetsPage.com.
Dr. Ochoa is a staff Veterinary Internist at WestVet Emergency & Specialty Hospital in Boise, Idaho.
She is the first in her family to graduate from college and receive an advanced degree, followed by her brother who is a medical doctor and one very proud father. Dr. Ochoa lives in Boise with her husband. They enjoy mountain biking and have visited many western states with their bikes in tow.
About PetsPage
PetsPage.com is a brand new social pet community that its Founder and CEO, Karen Bostick calls, "A Place for the Social Pet." PetsPage.com has a primary mission of increasing pet owner awareness of veterinary specialty medicine, which can quite literally save pets' lives through advanced veterinary care by creating an engaging social pet community platform to connect pet lovers with each other as well as pet professionals and pet products in a fun, friendly and interactive way. "I've really had fun creating new ways to incorporate more social features to attract pet owners to this important information," said Bostick.
Tinks' Story and Karen's mission has struck a chord with pet lovers around the world. During the development process of PetsPage.com, Bostick created several Facebook pages to share Tinks' Story and his adventures. The response has been overwhelming to say the least. Social media users and pet lovers all over the world not only embraced Tinks, they fell in love with him. Tinks has become a Social Pet SuperStar with Karen's Facebook pages - Karen Bostick & Tinks, We Love Tinks, and MyPetAdvocate.org, collectively garnering over 150,000 likes and growing.
PetsPage.com is based in Boise, Idaho.