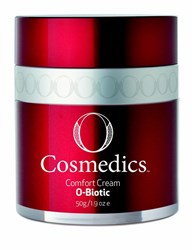 Sydney, Australia (PRWEB) August 23, 2013
Cosmedical heavyweight O Cosmedics is fighting dry, lifeless skin this winter with the release of the V8 Peptide Complex-infused Comfort Cream.
Rich in cosmedical grade ingredients like Snap 8 and Lipochroman 6, EFA's, super antioxidants and complimented by naturally sourced precious oils like rosehip and inca inchi, the Comfort Cream is an enriching cream suitable for all skin types.
Providing additional hydration and repairing the skin with a healthy barrier against external conditions, Comfort Cream is specifically designed to provide relief from the cold, drying winter wind while also preventing any premature ageing caused by Australia's year-round, harsh sun exposure.
With Lipochroman 6 working as an exclusive antioxidant preventing skin cell damage and O Cosmedics's special own V8 peptide complex reinforcing skin integrity and boosting elasticity, Comfort Cream also works to reinstate the skin with a healthier, more youthful glow.
Naturally sourced rosehip oil acts as a multivitamin for the skin by imbuing rich essential fatty acids, vitamins and antioxidants into the skin to regenerate cells and repair damaged skin tissue.
The additional inclusion of inca inchi – the richest oils containing unsaturated fatty acids – protects the skin by preserving lipid balance, softening skin and improving epidermal texture.
As the name suggests this cream is TLC in a jar providing total comfort and skin barrier repair for even the most compromised skin.
For more information on Comfort Cream and all the O Cosmedics, contact O Cosmedics HQ on +61 2 9712 8188 products contact Vanessa Casamento at Publissimo PR & Events vanessa(at)publssimo(dot)com.