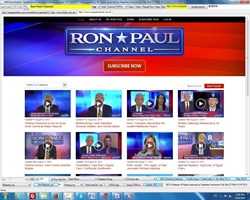 AGECityConnect is the only browser currently able to index directly to the desired website using native languages, this will become the dominant web browser in countries like China, India, Japan, Korea, etc
Kuala Lumpur, Malaysia (PRWEB) August 28, 2013
Paperless Homework's new patent-pending tool simplifies the web browsing process and makes Internet searching more accessible to non-English speakers. Since 2012, the company has been developing AGECityConnect, which will reinvent the way users address websites: difficult-to-remember ICCAN-based web addresses become easy everyday names, in any language supported by AGECityConnect.
AGECityConnect's remarkable features include:
1. Web searching without ICANN: Users enter the appropriate keywords and the correct page appears. One need not bother with .com, .my, .co.uk, etc., anymore. For example, if one enters "Ron Paul Channel" or use abbreviations "RPC", http://www.ronpaulchannel.com/# shows without going through multiple search engines results. These words are much easier to remember and promote, instead of cryptic ICANN-based .com or .us addresses. Users can even index pages using their own terminology in English or non English, for websites that have not been indexed with AGECityConnect's domains. This allows effective parental control over sites accessed.
2. Non-English web addresses: Users can enter their native language in the address bar in order to reach the correct website. Non-English speakers will no longer need to know English in order to enter web addresses or to Google search for a site using their native alphabet. Because AGECityConnect is the only browser currently able to index directly to the desired website using native languages, this will become the dominant web browser in countries like China, India, Japan, Korea, etc.
3. Cross-browser indexing: AGECityConnect complements all browsers. AGECityConnect can index to IE, Firefox, etc. Users can read pages with any browser and can easily switch between browsers. The invention will soon be licensed to other browsers as well.
4. Direct contact: AGECityConnect CRM allows website owners to connect immediately and privately with users, through personal chat, messaging, sending/receiving files, announcements, event invitations, etc. Site owners can use their own private servers to maintain privacy. It connects with staff, customers and general public thus maintaining effective communications.
AGECityConnect offers a host of innovative features like accessing applications, one indexed word calls up multiple web pages in case the main website is down. These unique features are designed to save time and avoid customers frustrations. For more information, users can view the videos here - http://www.agepaperless.com/video/GotoVideo.html
Joanne Looi, CEO of Paperless Homework Sdn Bhd, states, "We are very excited to launch this new innovative product that for the first time will enable many more users to surf the Internet without knowing a single alphabet. It will also overcome many challenges companies face to brand their online presence with difficult-to-remember or type ICANN-based web addresses, without even a space. This incidentally had been the main cause of the DotCom crash. No one seems to remember without advertisements and getting loose 'eyeballs' for the millions spent is just a pure waste of advertising money. The invention is currently patent pending and has been sent for patent protection under the global PCT in Geneva."
Paperless Homework invites all online news sites, schools, universities, and charities to take advantage of their unique offer: free indexing for an entire year. Details can be found on the website. Paperless Homework is currently seeking partners in every country, especially in non-English speaking countries. Licensing is available for other browsers to incorporate AGECityConnect's unique features to help them stay relevant, specifically for non-English speaking countries.
AGECityConnect qualified for prestigious Stockholm Challenge 2008 under the title "AGE Paperless Homework - a new platform for a greener world."
In line with the launch of AGECityConnect, Paperless Homework announced 100,000 free subscriptions are available in each country, for e-learning contents comprising hundreds of interactive e-books: Singapore Mathematics, Additional Mathematics O level, English and Chinese lessons etc. These are excellent tools for classroom lessons and make a convenient instant home library resource center. For details see http://www.agepaperless.com/work/win/main.htm
A summary of AGECityConnect and how it will change the way we browse the Internet is available from this link.
About Paperless Homework
Paperless Homework is a 100% Malaysian-owned startup company with MSC Status (pioneer status). It was funded with two government grants totaling RM200,000, in order to develop innovative e-learning solutions specifically for third world countries, with the theme to "close the digital divides for a greener world." The company is currently based in Malaysia's Technology Park in Kuala Lumpur. They can be found online at http://www.agepaperless.com/. Email: contact(at)paperlesshomework(dot)com Tel: +603 203 9015