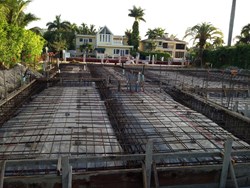 The APEX of Luxury Design
Fort Lauderdale, FL (PRWEB) August 22, 2013
Custom home builders GSM Builders is proud to announce that they have taken the first steps in the construction of a new, multi-million dollar home in the Las Olas area of South Florida. As of this writing, GSM Builders has broken ground on the lot of 2319 Sea Island Dr in Fort Lauderdale, as well as laid the concrete slab foundation and completed the initial dig for the home's planned in-ground pool and spa.
The home itself is slated to consist of two stories and will feature 5 separate bedrooms and 5 and a half baths for a total of 6,943 gross square feet. A 2.5 car garage provides ample space for vehicles, with storage capacity for the homeowners' needs. Overlooking the waterway just off the coast of Fort Lauderdale, the luxury home will provide its residents with stunning views, which will be enjoyed off a concrete dock allowing for waterfront boat access with no fixed bridges. In addition, a new sea wall will protect the home and surrounding property from surges in the event of stormy weather, and residents will be able to further take in the sights while cooking in the home's outdoor summer kitchen.
Watch a video of pouring the concrete slab
The true value of this home, however, comes in the form of the amenities that the homeowners will be greeted with upon their arrival. A 3-zone air conditioning system ensures that residents will have complete control over the climate, enabling them to keep cool during Florida's hot and humid summers while simultaneously reducing their consumption of energy. The kitchen will be graced with Sub-Zero and Wolf appliances, which are prized by top chefs as some of the best in the industry. An elevator will allow for effortless travel between the two floors of the home.
All of the fine details of the home, from the overhead lights to the shades on the windows, will be controlled by a state-of-the-art Lutron Home Automation System. This system helps homeowners to save energy while living in total comfort. The totally customizable settings will even allow the residents of 2319 Sea Island Dr to control their surroundings at the touch of a button, with lighting pre-sets available for general use, entertaining, shutting down for the evening, even going out of town.
GSM Builders welcomes inquiries regarding the construction and sale of this unique home.
GSM Builders is a Fort Lauderdale-based company, specializing in the design and development of custom luxury homes. As a Certified General Contractor in South Florida, GSM Builders is well-known for their expertise in both new construction and renovation.