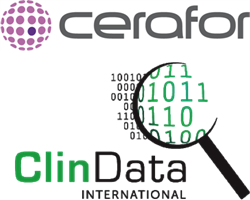 Together Cerafor and ClinData can offer more high quality biometrics capacity - great news for our customers!
(PRWEB UK) 22 August 2013
Cerafor, the specialist biometrics company, today announced that it is has signed a long-term Master Services Agreement with ClinData to provide database and statistical programming and data management resources from South Africa, to supplement its European operations.
Like Cerafor, all key personnel at ClinData have more than 15 years industry experience and ClinData staff have performed high quality biometrics services for both international clinical trials and South African trials. Both companies have established strong relationships with large and small pharmaceutical company and CRO clients. The partnership increases Cerafor's capacity to provide high quality and cost effective clinical study biometrics services.
"From our earliest contacts with ClinData, we knew that this partnership would be perfect for our customers," said Stephen Bamford, Cerafor's Executive Director and Co-founder. "South Africa ranks highest amongst all non-US/EU locations due to its use of English, EU time-zone and mature business working regulations."
"ClinData is very excited to have Cerafor as a partner and is looking forward to a very productive partnership," said Theo Erasmus, ClinData's CEO. "The common vision is to deliver high quality data and results and delight our customers by providing the best trained and highly experienced resources and doing it right first time."
About Cerafor:
Cerafor is a specialist biometrics company providing data management, biostatistics, medical writing, pharmacovigilance, and consulting services to pharmaceutical and biotechnology companies and CROs.
Based in the UK, Cerafor works with clients globally with an emphasis on expert and knowledge-driven biometrics and a focus on providing cost-effective, solutions and services.
About ClinData:
ClinData is an offshore CRO based in South Africa. The ClinData team of experienced, dedicated staff bring a wealth of data management and biostatistics experience with specialisation in CDISC and SAS gained from working on studies of various phases and throughout an array of therapeutic areas.