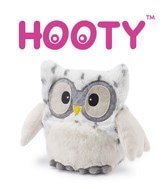 The creation of functional and useful products is a theme extending across the entire Intelex portfolio.
(PRWEB UK) 22 August 2013
The UK toy industry in 2012 was valued at £2.94 billion and is the biggest toy sector across Europe. Despite difficult trading conditions for retailers in 2012, the overall toy market held steady through 2012 (NPD Group) and with early signs of the UK economic recovery, conditions look favourable for growth in 2013 and beyond.
Philip Gannon, founder of The Intelex Group, offers some comments. "We've increased investment in our new product development pipeline over the last few years. 2012 was a bumper year for us where we launched nine new ranges. Our ability to bring to market high quality and exciting new product lines quickly is helping to develop and extend the lucrative heatable product sector. Our retail customers have provided us with insights around growing demands within the girls category for instance with doll sales on the rise, and we are able to act on these insights and create functional and fun products like our fully warmable Candy Warmheart® Ragdolls range."
The creation of functional and useful products is a theme that extends across the entire Intelex product portfolio. Purposeful products have always been at the heart of the Intelex business. Their original Hot Pak® technology was developed as an innovative solution to relieve everyday aches and pains. The first ever award winning fully microwavable herbal heat pack set the industry standard for quality and safety and remains the best-selling heat pack available today. Beddybear® followed in 1997, the world's first ever fully microwavable plush toy intended as a child's cherished soft play toy whilst offering a safe alternative to hot water bottles.
Intelex have also taken advantage of a number of licensing opportunities. Their licensed portfolio includes Gromit™, Shaun the Sheep™ and Bagpuss® with the familiar feline friend available in all manner of warmable boots, slippers, neck wraps and as a super soft fully warmable plush toy. Sales of Intelex's fully warmable Bagpuss range have surpassed all expectations. This year in 2013, Intelex have collaborated with UK Greetings to give the Boofle™ brand an Intelex make-over. The three year agreement with Aurora World has seen five of the YooHoo and Friends™ best-selling characters made available as fully warmable toys and retailing at £14.95. With over 30 million units of YooHoo™ sold worldwide by Aurora World, the launch of the fully warmable Yoohoo™ range from Intelex presents an excellent opportunity for retailers to capitalise on.
To see the full range of brand new products from Intelex including Hooty™ screen cleaners, Hooty™ friends, Knitted Warmers™ and new Socky Dolls™ designs, visit http://www.intelex.co.uk/ today.