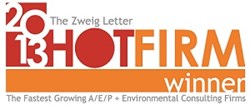 Bossier City, LA (PRWEB) August 21, 2013
Landpoint, Inc., an award winning land surveying and integrated services provider, has been ranked number 28 on the 2013 ZWEIG LETTER Hot Firm List, which recognizes the nation's top firms in the architecture, engineering, planning and environmental consulting industry.
This year marks the second time that Landpoint has been awarded a spot on the ZWEIG LETTER. The land surveying company was ranked number 53 on the exclusive list in 2012.
"We are honored to receive this award for the second year. Our company continues to grow at an extremely high rate thanks to the loyalty of our clients and the dedication of everyone within our organization." – James Souter, CEO
The company was recognized for thriving in tough economic times and experiencing record growth by diversifying its portfolio. The award reflects Landpoint's dedication to their clients and superior service. Much of the company's growth is attributed to a recent influx of oil and natural gas companies requesting support for pipeline projects.
Placement on the Zweig Letter Hot Firm List is based on a company's revenue growth over a three-year period, and Landpoint has consistently outperformed its competitors and the economy to become a leader in the field.
About Landpoint, Inc.
Landpoint is an award winning firm that provides tightly integrated, sophisticated solutions that traditional Land Surveying, Environmental, and GIS mapping companies cannot match. We understand your needs for data organization, timely deliverables, and responsive service. Our professionals have worked on some of the largest, most challenging oil and gas projects in the nation.