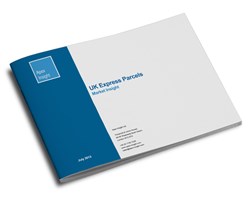 Having fallen after the 2009 downturn, growth is now speeding up in the £8bn parcels market as carriers and new entrants develop better models to serve home shopping needs.
London (PRWEB UK) 23 August 2013
This new report by Apex Insight looks at each of the three main segments of the parcels market: business-to-business, business-to-consumer and consumer/small business-consigned parcels. These segments were traditionally seen as separate markets, served by different providers. However, there has been convergence as home shopping growth has made consumers increasingly attractive to serve, drawing business carriers such as UPS, City Link and UK Mail to increase their focus on the area where they believe they can serve it profitably. At the same time, consumer-focused carriers like Yodel have invested in systems and sought business customers. New services have been developed by both carriers and third parties, such as internet brokers and parcel shop networks, to give consumers and small businesses access to a much wider range of services.
Home shopping has fuelled growth in the business-to-consumer segment throughout the last decade as penetration of broadband, smartphones and tablet computers have risen. The challenge for operators has been to develop a model to serve home deliveries profitably, so they can obtain exposure to this growth segment – which now represents almost a quarter of the market – without damaging their overall economics and impacting service levels for premium business-to-business customers. Latest data confirms that the economy has now started to recover, although later and more slowly than previously forecast, suggesting stronger performance can be expected in business-to-business parcels than in the recent past.
The UK market remains relatively fragmented with consolidation occurring at a slow pace. The only significant merger in the last year has been the incorporation of Nightfreight into DX Group. City Link was divested by Rentokil Initial into private equity ownership (Better Capital) while UPS's attempt to acquire TNT was disallowed by EU competition authorities.
While overall industry profitability remains low, several operators earn healthy margins and the overall picture is distorted by on-going turnarounds at City Link and the old DHL Domestic business, now owned by Yodel.
Factors such as quality of operations and fit with segment focus have proven to be far more important than the effects of scale in determining profitability.
The full study: UK Express Parcels: Market Insight Report 2013, is based on Apex Insight's model of the market – first developed in 2004 and regularly updated since – plus market interviews and extensive research. It contains market forecasts and comparisons of the business models of leading operators and is available from apex-insight.com/research
About Apex Insight
Apex Insight is an independent provider of research, analysis and consulting services covering business services markets in the UK and Europe. In addition to Express Parcels, it has recently published market reports covering sectors including C2C Parcels, Contract Catering, Integrated Facilities Management, Security, Pest Control, Waste Management, Call Centres, Tool & Equipment Hire and Vehicle Leasing.
About the Author
Our work on this study was led by Frank Proud. He has extensive experience as an analyst of, and consultant to, the parcels and logistics industries. His work has included providing consulting advice to leading carriers, such as UPS and FedEx, investors in networks including ANC, DX, Nightfreight and Tuffnells and start-up parcels service providers.
Companies mentioned in the report
Amazon
APC
ByBox
City Link,
Collect Plus
DHL
DPD,
DX
eBay
FedEx,
Hermes,
Interlink
Interparcel
Nightfreight
Parcel Monkey,
Parcel2Go,
Parcelforce Worldwide
Royal Mail
TNT Express
Tuffnells
UK Mail
UPS
Yodel