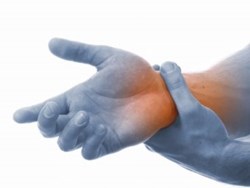 Hand Arm Vibration Syndrome and Carpal Tunnel Syndrome linked to vibration exposure are preventable. However, once the damage is done, it's permanent with no cure.
Bolton, UK (PRWEB UK) 27 August 2013
Allan Thornewill, aged 55, developed bilateral carpal tunnel syndrome after being exposed to vibrations, while employed at a car factory in Derby. (1)
Derby Crown Court heard that Mr Thornewill had to hold turbine blades with his hands, as they were blasted with water under pressure, for up to nine hours a day. It is believed that such exposure has been the main cause of the permanent nerve damage. (1)
Speaking about the condition, after the hearing, Mr Thornewill said:
"If I hold a mobile phone for more than a minute, it is agony. I used to go weight training but cannot lift much now because of the pain."
"I have problems in gripping things and have been through five operations. I was doing that job for nine-hour shifts and this water was blasted at a force and was very cold."
"When I first went to my doctor, he gave me a steroid injection and suspected it was caused by the job. I was off work for a time but both wrists got worse." (1)
In September 2009, Mr Thornewill was diagnosed with Carpal Tunnel Syndrome, and was unable to work for four months. He is now back at work, in a different role, that does not involve exposure to vibrations. Rolls-Royce replaced the unit with an automated system.
Health and Safety Executive (HSE) inspector, Noelle Walker stated:
"Hand Arm Vibration Syndrome and Carpal Tunnel Syndrome linked to vibration exposure are preventable. However, once the damage is done, it's permanent with no cure.
"Proper health surveillance is vital to detect and respond to early signs of damage. Rolls Royce Plc failed to take action to prevent damage caused by the vibrating wet blasters, failed to provide Mr Thornewill with health surveillance and then failed to respond when he reported ill health. This has led to him suffering prolonged pain and discomfort with some permanent damage which affects the quality of his life.
"The company should have properly assessed the level of vibration exposure and limited the amount of time workers spent using the wet blasters." (3)
Rolls Royce Plc pleaded guilty to fail to protect workers from the risks of vibration caused by machines, and were fined a total of £60,000, and ordered to pay £18,168 in costs. (2)
Commenting on the news, Thomas Fairclough, Executive at Asons Solicitors, made the following statement:
"Carpal Tunnel Syndrome one of the most common industrial diseases in the UK. It causes pain, numbness and a tingling sensation. When severe, it can be an extremely frustrating and painful condition to live with.
"Here at Asons, we strongly believe that no one should suffer because an employer has been negligent. Those who have experienced similar working conditions, or suffer from CTS after being exposed to vibrating machinery, should not hesitate to make a carpal tunnel claim."
Asons Solicitors have a wealth of experience in dealing with carpal tunnel compensation cases, and have been exposed to a variety of working practices that endanger the health and safety of employees on a regular basis. As such, they advise victims of Carpal Tunnel to recommend improvements to their employers, to make their position less uncomfortable.
Asons provides advice and guidance to victims of Carpal Tunnel Syndrome, so if you have been affected by Carpal Tunnel at work, they advise that you come forward. They can be contacted on 01204 521 133 or you can visit their website for more information at http://www.asons.co.uk
(1) Derby Telegraph – Rolls-Royce fined £60k after worker suffered permanent wrist damage - 16th August 2013 thisisderbyshire.co.uk/Rolls-Royce-fined-pound-60k-worker-suffered/story-19672607-detail/story.html
(2) Derby Crown Court – Case N. S20130283
(3) Health and Safety Executive – Rolls Royce fined after worker suffers permanent injury - 16th August 2013 hse.gov.uk/press/2013/rnn-em-rolls-royce.htm
About Asons Solicitors:
Asons Solicitors is a Bolton-based law practice that specialises in personal injury and industrial disease claims. Founded by brothers Imran Akram and Kamran Akram, Asons Solicitors has developed to become a young and dynamic law firm that delivers practical solutions to clients in times of difficulty. Their continued focus on their staff has seen them awarded with the Investors in People "Gold Award"; which is reflected in the professional and personable approach they take in working with clients. They strive to grow and to develop, and their supportiveness and attention to detail ensures that their clients use them time and again.
For further information contact:
Email: info(at)asons(dot)co(dot)uk
Website: http://www.asons.co.uk