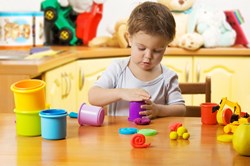 Avoid long periods -- more than 60 minutes -- of sedentary activity, insist that schools provide morning and afternoon recesses and whenever possible get kids outside.
London (PRWEB UK) 23 August 2013
Children love to play, run and explore from the time they first begin to walk, and an active childhood can play a major role in how much a person remains active as they grow older, with long-term health benefits all throughout life. Boys are more likely to experience the sustained benefit from being active as preschoolers, possibly because they are more active at age 5 than girls, highlighting a need to especially encourage young girls to exercise.
A study, published in the American Journal of Preventive Medicine, 2009, and conducted by the University of Iowa, tested the body fat and activity level of 333 kids at ages 5, 8 and 11 using gold-standard technology: a special scanner that accurately measures bone, fat and muscle tissue, and an accelerometer that measures movement every minute.
The kids wore accelerometers to record their activity level for up to five days, providing much more reliable data than relying on kids or parents to track minutes of exercise "We call this effect 'banking' because the kids benefit later on, similar to having a savings account at a bank. The protective effect is independent of what happens in between," said lead author Kathleen Janz, professor of health and sport studies in the UI College of Liberal Arts and Sciences. 1
The challenge is that it can be difficult to measure minutes of activity, since kids exert themselves in short bursts -- think sprinting after a ball -- rather than continuous activities, like jogging. So what can parents do? "Avoid long periods -- more than 60 minutes -- of sedentary activity, insist that schools provide morning and afternoon recesses and whenever possible get kids outside."
"Kids who meet the CDC activity recommendations tend to be kids who spend a fair amount of time outdoors enjoying unstructured play," Janz said. "In the end, it doesn't take that much extra physical activity to see a measurable outcome. Even 10 extra minutes a day makes a difference in protecting against excessive fat gains."
Two studies published by University at Buffalo (UB) researchers are among the few laboratory-controlled studies of how 8-12 year old children who were given choices or autonomy -- the ability for the individual to decide how he or she wanted to be physically active -- increased their intrinsic motivation to be physically active.
The goal of the research, led by James Roemmich, PhD, associate professor of paediatrics in the UB School of Medicine and Biomedical Sciences, was to identify basic factors that make children more physically active. The results showed that giving children more toy choices markedly increases their physical play, especially in girls.
When there was only one toy to play with, boys engaged in 1.3 times longer active play than the girls, but when children were provided access to a choice of active toys, physically active play time increased by nearly 200 percent for girls, compared to an increase of just 42 percent for boys. 2
In a second UB study published in the International Journal of Behavioural Nutrition and Physical Activity, the UB researchers looked more closely at how autonomy and mastery -- a force that motivates the child to develop proficiency -- increased a child's intrinsic motivation for physical activity.
"In traditional games, children expend a lot of energy chasing after balls and pucks, while with exergames, children tend to play twice as long as they played traditional versions, but only expend half of the energy as they are just waiting for the game to reset," says Roemmich. "If an exergame displaces watching TV or playing a videogame, then even the lighter intensity physical activity is preferable."
And he suggests that parents focus on finding 3 to 5 active games that your children like and make them easily accessible around the home. Outside the home, Roemmich says, seek a variety of activities ranging from formal to aerobic dance, to zumba, basketball or martial arts or seek out fitness centres and youth centres that promote autonomy and choice by not charging extra for such choice of programming. 3
References
1) http://news-releases.uiowa.edu/2009/july/072809studyactivepreschooler.html
2) http://www.sciencedaily.com/releases/2012/04/120418203620.htm
3) http://www.jsams.org/article/S1440-2440(11)00478-6/abstract