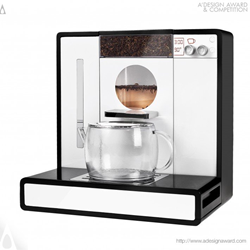 taly (PRWEB) August 24, 2013
Como, İ A' Design Award and Competitions are proud to inform that the design Tesera by Tobias Gehring has been granted the notable Golden A' Design Award at Home Appliances Design Competition, picked as the winner by the international referees of the A' Design Awards & Competitions amidst a great number of submissions.
Regarding Tesera
The fully automatic Tesera simplifies the process of tea preparation and sets an atmospheric stage for making the tea. The loose tea is filled into special jars in which, uniquely, brewing time, water temperature and the amount of tea can be individually adjusted. The machine recognizes these settings and prepares the perfect tea fully automatically in the transparent glass chamber. Once the tea has been poured out, an automatic cleaning process takes place. An integrated tray can be removed for serving and also used as a small stove.
To learn more about the award winning design, please: http://www.adesignaward.com/design.php?ID=26602 .
The Golden A' Design Award
The Golden A' Design Award is a prestigious award given to top 3% percentile designs that has carried out an exemplary level of quality in design. The designs are judged by a panel of three different jury which is composed of Academic, Professional and Focus Group Members. The designs are evaluated with score normalization to remove any biases and are voted on aspects such as functionality, ergonomics, engineering, presentation, innovation, usability, fun details, technology, and any other specific points that could be considered, each of these points are further weighted for different jury groups.
About A' Design Award and Competitions
A' Design Award and Competitions, aims to highlight the excellent qualifications of best designs, design concepts and design oriented products. A' Design Award and Competitions are organized and awarded annually and internationally in multiple categories to reach a wide, design-oriented audience. To learn more, visit: http://www.whatisadesignaward.com.