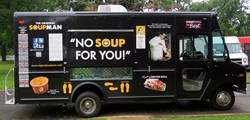 (PRWEB) August 23, 2013
What started as a trend has now brought new meaning to the term "dining out." The number of vending trucks in operation are expanding daily, and is said to be one of the fastest growing markets in the country. In 2010, 26 percent of Americans said they have visited a food truck in the last six months, according to a survey by Technomic for American Express, a Chicago-based food industry and consulting firm. Now two years later, consumer demand has driven mobile cuisine toward the mainstream, changing food trucks from being viewed as a last resort to a destination.
What's being referred to as the "food truck craze" was started by entrepreneurs ambitious enough to take a risk and branch out for themselves. Not only are entrepreneurs entering into the food truck scene but established restaurants and businesses as well. Business owners and operators are realizing the many advantages associated with utilizing a food truck as a spin off of a brick-and-mortar restaurant. Food trucks are a unique new way to offer everyday products in a convenient fashion and creates new positive long term opportunities for pre-existing businesses.
Using a food truck as a promotional vehicle for a brick and mortar attracts prospective new customers in a new market outside their traditional domain. This marketing technique maximizes mobility and expands the potential for new opportunities in business growth, profit, and exposure. Spreading awareness to new areas about quality unique food items listed on the menu, vending trucks attract more foot traffic and lead to more walk-ins for businesses. Restaurant owners can choose to boast only the most highly rated, flavourful, or unique food items in the food truck to promote brand recognition and exposure for the brick-and-mortar business.
Vending Trucks, Inc., a food truck fabrication company located in East Brunswick, NJ, specializes in custom designing effective food trucks. The company targets entrepreneurs and businesses seeking advertising or marketing needs with the use of a mobile food truck. Vending Trucks, Inc. offers custom design options like vinyl wrapping, fabricating, and endless equipment selections. Utilizing a vending truck is a huge aspect for restaurant owners that are looking to promote their brick and mortar and enter into a new food arena.