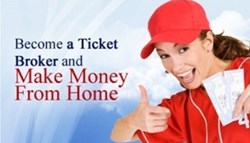 'The real key to success is the training each company is provided so there is no learning curve,' says Mr. Smith. 'Imagine starting a business and being able to contact a 15 year expert at anytime for help, this is why companies are successful'
(PRWEB) August 28, 2013
There is a niche market online that allows any company the ability to resell every ticket to every event in the country. If you ever wanted to become a ticket broker, then this is a great way to add a new revenue stream to your business. Philip Smith, owner of PFS Marketing and BecomeATicketBroker.com, has been helping companies add revenue streams to increase their bottom line.
To make it even easier to setup this new business model, up to 60-month financing options are available. The first option is using Paypal and their Bill Me Later service to receive 6 month 0% interest. The other options are through multiple financing institutions that will allow up to 60-month financing. The financing is for the one-time fee, as there are zero monthly fees.
Every company receives their own website under their own URL and they are able to set their own profit margin on every event ticket. Each company also receives 1-on-1 training services to launch the business. "The real key to success is the training each company is provided so there is no learning curve," says Mr. Smith. "Imagine starting a business and being able to contact a 15-year expert at anytime for help, this is why companies are successful," says the digital marketing expert.
By becoming a ticket broker, anyone can sell tickets online to any event in the country, even sold out events. Even though it's called a ticket broker business, the company is just a reseller, which means they do not need a ticket broker license. They have full control of the profit they make on each ticket and if they want to become a licensed ticket broker and hold their own inventory, they can do so by using the same online system.
About PFS Marketing
PFS Marketing provides a full suite of digital marketing services and specializes in SEO, training, social media, traffic and lead generation and much more.