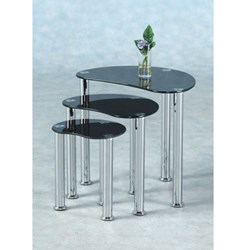 (PRWEB UK) 24 August 2013
The well respected Sheffield College has purchased multiple furniture items, including Cara Nests of Tables, Bevelled Mirrors and Troy Dining Sets from FurnitureInFashion. FurnitureInFashion is one of the leading suppliers of contemporary modern furniture to commercial and domestic clients both in the UK and globally. In the short period since its establishment, FurnitureInFashion has overtaken its competitors in terms of quality, prices and services. The company has a comprehensively outfitted furniture showroom located in Bolton and also offers an interactive and user friendly website. The website displays FurnitureInFashion's complete catalogue of living room, dining room, bedroom, office, bathroom, kitchen and bar furniture. Sheffield College purchased some of the best sellers from FurnitureInFashion's ranges, including Troy Dining Sets, Bevelled Mirrors and Cara Nests of Tables. The management of the college reported complete satisfaction with the quality of the products purchased and they greatly appreciated the excellent support services offered by FurnitureInFashion.
The Cara Nests of Tables purchased by Sheffield College consist of three dazzling tables that give a delightful look to any space and are ideal for domestic areas. These tables have a tempered black glass top and polished chrome finished legs. The tables have distinctive shapes and act as great space savers in any space. The chrome-finished legs provide stability and durability for long use. These tables are also available in a stunning clear glass finish. The three tables come in different sizes: large, medium and small. The large sized table has a width of 20.34" and height of 18.3/4". The medium sized table has a width of 15.1/2" and height of 16". The small sized table has a width of 11.1/4" and height of 13.1/2". These tables are available at very affordable prices.
Sheffield College also purchased striking Bevelled Large Wall Mirrors from FurnitureInFashion. These stunning rectangular wall mirrors have a mirror frame design and can be used to reflect light or simply add radiance to any space. The mirror glass is 4mm thick with 5mm beveled edges. The silver glass is attached to 15mm MDF board, covered with black felt. Four steel D rings are attached to the MDF board. This wall mirror with its unique frame, rectangular shape and beveled edges makes any smaller space appear larger.
Another prominent purchase on the part of Sheffield College are Troy Black Glass 2 Seater Dining Sets. This dining table set includes a table with a black glass top and tripod legs. The dining table has been manufactured in toughened glass which meets all British and European Safety Standards. The stylish dining chairs accompanying this table are made from high quality black faux leather. These chairs are available in either black or cream. The dining chairs have been designed to provide maximum comfort. The width of these dining tables is 85cm and they are 85cm deep as well.
The spokesperson of FurnitureInFashion said, "It has been a pleasure working with Sheffield College and FurnitureInFashion takes immense pride in supplying the college with some of our company's best-sellers. It was a huge order from Sheffield, and this has given FurnitureInFashion even greater confidence in its claim to offer quality furniture at the most affordable prices available. Customers who are looking for sleek, contemporary furniture should have a close look at our catalogue or website."
To have a look at quality affordable furniture online and to place a pre-stock order, please visit the company website today at http://www.furnitureinfashion.net. The range of home and office furniture on the website is huge, delivery is fast, savings are massive and quality is guaranteed.
About FurnitureInFashion
FurnitureInFashion is a UK-based online retail business. It supplies furniture from its German-based warehouse and has a showroom in Bolton, UK. The company provides everything from umbrella stands, wall art and room dividers, to bedroom suites, bar stools, and computer tables. FurnitureInFashion offers free delivery within the UK and is rightly proud of its excellent customer service. For further information and details about sales, please visit http://www.furnitureinfashion.net.