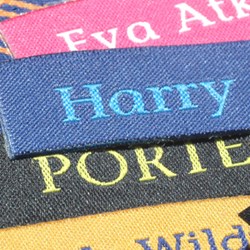 Bought new School clothes? 88% of children will lose clothes this year.
(PRWEB UK) 28 August 2013
As new school mums ready themselves for their child starting school, they might not be expecting their child not to come home with their newly purchased school clothes.
According to the latest research from Simply Stuck, the UK's leading provider of Name Labels for school clothes, 88% of school children will lose some item of clothing throughout the school year.
The most popular lost item of clothing, by far, is the school jumper with 84% of mums having to ask their little one "Where did you leave it last?"
Cardigans, were the next most common item to be lost with 35% of mums having to rummage around in the lost property bin. This was followed by PE Kits with 37%.
Highlighting their frustrations, mums whose children aged between 4-12 years, felt that the most common reason for scrambling about in the 'lost property bin' was due to name labels coming off in the wash(67%). 10% of mums adopted the 'can't sew – won't sew mentality'
Jo Winchcombe, Managing Director of Simply Stuck comments, "Any parent with children already at school understands that clothes don't always make it home. So as the large retailers start to advertise the latest offers for school clothes, it is important for new school mums not to waste money on replacing new clothes. Name labels work at bringing lost clothes back to their owners."
"The survey highlights the usual adage; you get what you pay for.
Buy cheap – you get cheap."
No unusual items of clothing made it into our list this year.
We have a special one off introductory offer of £9.99 for our introductory pack.
Notes to Editor
About Simply Stuck
Simply Stuck is one of the Leading providers of name labels in the UK. They sell a range of name labels, stickers and tags.