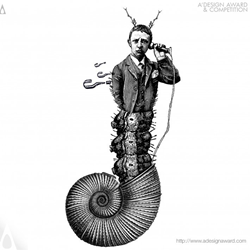 taly (PRWEB) August 28, 2013
Como, İ A' Design Award and Competitions are happy to inform that the project Pain and Suffering by Sharon Webber-Zvik has been acknowledged with the famous Golden A' Design Award at Graphics and Visual Communication Design Competition selected as a winner by the esteemed jury members of the A' Design Award & Competition among numerous designs.
Insights on Pain and Suffering
This design explores suffering in different layers: philosophical, social, medical and scientific. From my personal point of view that suffering and pain comes in many faces and forms, philosophical and scientific, I chose the humanization of suffering and pain as my basis. I studied the analogies between symbiotic in nature and symbiotic in human relations and from this research I created characters that visually represent the symbiotic relations between suffer and the sufferer and between pain and the one in pain. This design is an experiment and the viewer is the subject.
To learn more and download high-resolution photos, please visit: http://www.adesignaward.com/design.php?ID=27196.
The Golden A' Design Award
The Golden A' Design Award is a prestigious award given to top 3% percentile designs that has carried out an exemplary level of sublimity in design. The designs are judged by a panel of three different jury which is composed of Academic, Professional and Focus Group Members. The designs are evaluated with score normalization to remove any biases and are voted on aspects such as functionality, ergonomics, engineering, presentation, innovation, usability, fun details, technology, and any other specific points that could be considered, each of these points are further weighted for different jury groups.
About A' Design Award and Competition
A' Design Award and Competitions, aims to highlight the excellent qualifications of best designs, design concepts and design oriented products. A' Design Award and Competitions are organized and awarded annually and internationally in multiple categories to reach a wide, design-oriented audience. To learn more visit: http://www.whatisadesignaward.com.