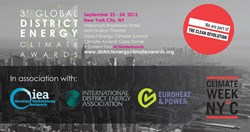 New York City, New York (PRWEB) August 21, 2013
On September 23, the International District Energy Association (IDEA), in conjunction with Euroheat & Power and the International Energy Agency (IEA), will convene a gathering of international experts at the Global District Energy Climate Summit in New York City to discuss how district energy and combined heat and power (CHP) systems can provide more resilient energy infrastructure for cities, communities and campuses while also reducing greenhouse gas emissions and strengthening local economies.
"Nearly one year after the devastation of Super Storm Sandy, governors, mayors and public officials are facing up to the real challenges of planning for public safety and economic disruption from more severe weather events," says IDEA President & CEO Robert Thornton. "They are seeking practical guidance from the energy industry on how to enhance reliability through more robust and resilient infrastructure. At the same time, public officials want actionable strategies to cut emissions and bolster their local economies. Fortunately, this Summit will deliver both and feature proven examples of industry best practices from North America, Europe and the Middle East that will allow industry and government leaders to share insights on successful development, deployment and optimization of district energy."
The Summit is timely and follows the August 19 release of President Obama's Hurricane Sandy Rebuilding Task Force, chaired by Housing and Urban Development (HUD) Secretary Shaun Donovan, which released a rebuilding strategy to serve as a model for communities across the nation facing greater risks from extreme weather and to continue helping the Sandy-affected region rebuild. The Rebuilding Strategy contains 69 policy recommendations including #12 which references resilient energy investments and #14 suggesting Federal and State cooperation on electric grid policies.
"While the challenge of climate change is global," says Thornton, "this Summit will explain how we can take actions at a local level by investing in energy infrastructure today to cut emissions and strengthen resiliency at the same time. And with community scale, district energy can make a meaningful and immediate impact and deserves full consideration in urban planning strategies."
For example, representatives from Enwave Energy of Toronto and Cornell University will discuss their renewable district cooling systems using cold lake water to efficiently air condition millions of sq ft of building space at nearly one-tenth the operating cost of traditional cooling systems. Representatives from Copenhagen and other municipalities will explain how they convert waste into useful energy and power for citizens, cutting emissions and reliance on fossil fuels. Universities like Texas A&M and UT Austin, have turned to combined heat and power to dramatically improve system efficiency and reduce peak demand on the power grid while enhancing reliability so important for mission-critical research campuses.
The Global District Energy Climate Summit and Awards will take place on September 23 at the Hudson Theater in midtown Manhattan and is a registered event of ClimateWeekNYC. More information on the program and registration is available at http://www.districtenergyclimateawards.org