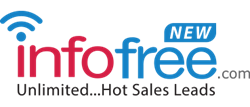 We want to shake up the overly expensive sales leads industry and make it affordable for salespeople and small-business owners by providing high-quality, low-priced leads.
- Vin Gupta, co-founder of infofree.com
SAN MATEO, Calif. (PRWEB) August 21, 2013
Inc. Magazine has ranked infofree.com, the home of unlimited sales leads and marketing mail lists, No. 295 on its renowned 500|5000 list of fastest-growing private U.S. companies. The selection announced this week places infofree.com among an elite group of firms representing independent U.S. entrepreneurs.
The company was founded by visionary entrepreneurs Vin Gupta, Rakesh Gupta, Fred Vakili, Monica Messer, Bob Smith and Michael Scott – leaders of the team that previously founded Salesgenie.com. Offering more than 200 business and consumer databases as well as cutting-edge search-and-select technology, infofree.com gives users access to the information they need to find new customers and increase their sales – all for $49.95 per month.
"Just think of infofree.com as the largest warehouse of databases, supported by CRM software, that you can find on the market today for less than $50 a month," said Vin Gupta. "We want to shake up the overly expensive sales leads industry and make it affordable for salespeople and small-business owners by providing high-quality, low-priced leads."
In the past three years, infofree.com has recorded revenue growth approaching 1,500 percent, the biggest factor in the Inc. 500 citation. During that period, more than 100,000 users have turned to the service to increase their sales productivity.
In addition to its overall ranking, infofree.com placed 22nd among companies providing business products and services, and 54th among California-based companies. (Note: infofree.com also has offices in Omaha, Neb.)
Inclusion on the annual Inc. 500 list is among the business community's most sought-after and respected distinctions. Inc. 500 companies represent the top tier of the Inc. 5000 ratings and are featured in the magazine's September issue each year. For consideration on the 2013 list, companies were required to be based in the United States, be privately held and post revenue of at least $2 million last year.
Visit http://www.inc.com/inc5000/list/2013 to view full results.
About: infofree.com is revolutionizing the sales lead and mailing list industries by providing unlimited search, view and download of low-cost marketing information enabling sales professionals and small businesses to target new customers and grow their sales. Named this year to the Inc. 500 list of fastest-growing U.S. companies, infofree.com offers 300 million business and consumer listings in more than 200 specialized databases.
Content is compatible with the following platforms: Oracle CRM, Salesforce CRM, Microsoft CRM, Nutshell CRM, Goldmine CRM, Sage ACT! CRM, Highrise CRM, Zoho CRM, NetSuite CRM, SAP CRM, Constant Contact, RightNow Technologies, Responsys, Vertical Response and Dun &Bradstreet.