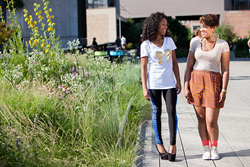 The High Line belongs to all New Yorkers, and Friends of the High Line is committed to creating programs that activate public space in response to the interests of local residents. High Line Fashion is an example of this.
New York, NY (PRWEB) August 22, 2013
Fashion Week starts early on the High Line. New York City's elevated railway-turned-park—described as "the most extraordinary fashion promenade you can imagine" by Bill Cunningham of The New York Times—is getting ready to host its first official runway event, which will be free and open to the public.
As part of its Community Engagement initiative to serve the needs and interests of New Yorkers living and working near the High Line, Friends of the High Line will present the High Line Back-to-School Teen Fashion Show, on Thursday, August 29 at 7:00 PM within the Chelsea Market Passage, the semi-enclosed passageway on the High Line between West 15th and West 16th Streets. The show will be free, and open to visitors of all ages. RSVP will not be required, but seating will be limited.
Curated by Friends of the High Line and 13 local teens, with production assistance and artistic direction from Harlem's Fashion Row and Caravan Stylist Studio, the High Line Back-to-School Teen Fashion Show will feature professional models wearing fresh fall fashions for young adults, designed and styled by local teens in collaboration with emerging and established American fashion designers, including Boy Meets Girl, Huminska, Junk Food Clothing, LaQuan Smith, Tabii Just, and Synderela, and complemented by shoes and accessories selected by the teens from HSN.com and Michelle Vale.
The runway fashion show was created by the teens as part of a two-month-long workshop series organized by Friends of the High Line, with leading support from the Ford Foundation. Over July and August, the teens attended information sessions in the studios of fashion designer and Project Runway Season 9 designer Kim Goldson, clothing stylists from HSN.com, make-up artists from Pop Beauty Cosmetics, and hair stylists from Salon Grafix. The series culminated with studio apprenticeships in which teens paired off with the individual designers to create new looks for the High Line Back-to-School Teen Runway Show.
Part of Friends of the High Line's ongoing Community Engagement program, the High Line Back-to-School Teen Fashion Show is a new initiative that directly responds to a neighborhood survey conducted by the non-profit organization in the spring and summer of 2011. During the survey, which was made possible with support from the Nathan Cummings Foundation, Friends of the High Line surveyed more than 800 residents living in the Robert Fulton Houses and Chelsea-Elliott Houses—two New York City Housing Authority complexes closest to the High Line—to identify programs local residents would like to attend at the park. The survey results showed interest from many in job training and skill-building opportunities for local teens, as well as public programs and activities involving fashion on the High Line. High Line Fashion is one of several teen programs presented by Friends of the High Line, including opportunities in youth education, green careers, and the arts.
"The High Line belongs to all New Yorkers, and Friends of the High Line is committed to creating programs that activate public space in response to the interests of local residents. High Line Fashion is an example of this," said Robert Hammond, Co-Founder, Friends of the High Line.
"Local residents expressed an interest in fashion, and we are thrilled that the High Line can serve as a platform for teens to explore their voice, exhibit their creativity, and express themselves through fashion—a vital New York City industry that can still feel out of reach for many, especially people of color," said Erycka Montoya Pérez, Community Engagement Manager, Friends of the High Line.
"The High Line Back-to-School Fashion Show program is an experience of a lifetime. I got an opportunity to meet designers and people who have the same interests as I do. I enjoy working hands-on with designers such as LaQuan Smith and designing an outfit for the fashion show. I feel like this is an open door to many different opportunities in the fashion industry," said Amber Nuñez, one of the High Line Fashion participants.
"There are so many valuable lessons I learned while building Boy Meets Girl®, that I wanted to create a positive and educational experience for these students who might otherwise not have the resources to break into the fashion world on their own, " said Stacy Igel, Boy Meets Girl®.
"We are thrilled to participate in this show, which features Junk Food Clothing as it is seen through the eyes of these talented teens. Junk Food has always been a huge supporter of community efforts and causes. We were drawn to the High Line Back-to-School Teen Fashion Show because it gives us an opportunity to pay tribute to our inspiration—young, aspiring designers who have their finger on the creative pulse of our city. What an exciting way for us to present our brand! During the mentorship, we learned as much from them as they hopefully learned from us!" said Andrei Najjar, Vice President of Marketing, Junk Food Clothing.
"I believe that dreams can come true and this creative mentoring workshop is a window for teens to see the industry in action, and participate in a show from start to finish, and I feel honored to be a part of it!" said Janice of HUMINSKA.
"We are thrilled to be participating in the High Line project. It is a fantastic opportunity to give back to the local community by helping students make steps towards achieving their dreams. The High Line is a place I visit for inspiration and tranquility often. It's very in line with our brand's mission of Made in New York with their current offering of local food and product purveyors," said Michelle Vale, Creative Director/Owner, Michelle Vale Inc.
"HSN is honored to have the opportunity to work with Friends of the High Line in an effort to foster the growth of the teens in the community. Just as HSN is known for developing new brands and talent, we think it's important to nurture the younger generation as they grow into adulthood and determine their career paths. We look forward to seeing the students' work come to fruition and know the show will be a great success," said Anne Martin-Vachon, Chief Merchandising Officer, HSN.
ABOUT BOY MEETS GIRL
Boy Meets Girl® is an edgy yet wearable, stylish yet classic young contemporary brand, seen on the racks of specialty and department stores worldwide including Bergdorf Goodman, Bloomingdales and Harvey Nichols. Boy Meets Girl® Founder and Creative Director, Stacy Igel, has received several design awards and honors. The brand has been featured in premier publications including Elle, InStyle, Teen Vogue, Lucky and the New York Times, and has been photographed on high-profile fashionistas such as Rosario Dawson, Eva Mendes, Nina Dobrev, and Vanessa Hudgens. Boy Meets Girl® has been celebrated on top-rated television shows including America's Next Top Model and Gossip Girl. Stacy and Boy Meets Girl® are dedicated to giving back to the community through their Boy Meets Girl® University Initiatives and by aligning themselves with causes important to the brand including the Young Survival Coalition and the NSCC's BullyBust campaign.
For more information visit http://www.boymeetsgirlusa.com, http://www.boymeetsgirluniversity.com and http://www.stacyigel.com . Facebook: Boy Meets Girl and Stacy Igel. Twitter/Instagram: @boymeetsgirlusa and @stacyigel
ABOUT CARAVAN STYLIST STUDIO
Claudine DeSola started her career in PR and then mixed it with retail with the first ever mobile store, Caravan, and then a store on the Upper East Side and NoHo in New York City. She loved the opportunity to work with celebrities who visited her retail shops and decided to turn it into a styling career by launching Caravan Stylist Studio. Caravan Stylist Studio is a complimentary full-service hair, make-up, and styling wardrobe studio for actors, actresses, musicians, and bloggers, which showcases over 100-plus fashion designers from New York and around the world. The studio is located at the Carlton Hotel. To learn more, visit http://www.caravanstyliststudio.com.
ABOUT HARLEM'S FASHION ROW
Founded by Brandice Henderson, Harlem's Fashion Row provides a platform for designers of color through creative events. Harlem's Fashion Row hosts two fashion shows featuring African American and Latino designers during New York Fashion Week. Recently featured in The New York Times, Wall Street Journal, Paper Magazine, and NBC New York, Harlem's Fashion Row has quickly become a staple on the New York fashion scene, attracting major support from the fashion set. Harlem's Fashion Row is creating diversity on the runway. To learn more, visit http://harlemsfashionrow.com .
ABOUT HSN
HSN is a leading interactive multi-channel retailer, offering a curated assortment of exclusive products and top brand names to its customers. HSN incorporates entertainment, inspiration, personalities and industry experts to provide an entirely unique shopping experience. At HSN, customers find exceptional selections in Health & Beauty, Jewelry, Home/Lifestyle, Fashion/Accessories, and Electronics. HSN broadcasts live to 95 million households in the US in HD 24/7 and its website - hsn.com features more than 50,000 product videos. Mobile applications include HSN apps for iPad, iPhone and Android. HSN, founded 36 years ago as the first shopping network, is an operating segment of HSN, Inc. (Nasdaq: HSNI). For more information, please visit HSN.com, or follow @HSN on Facebook and Twitter.
ABOUT HUMINSKA
Traces of the designer's past incarnation as a milliner are visible in a small number of delicious hats, fashioned by hand in the basement workshop. These delightful one-of-a-kind confections in feathers, silk, and velvet perfectly complement the flirty, curvy dress line that bears the HUMINSKA name, gorgeous creations that glide with style and ease over any woman's natural lines, from budding beauty to mature sophisticate. Cut and sewn with tender loving care right here in New York City, HUMINSKA dresses are as versatile as the women who wear them.
ABOUT JUNK FOOD CLOTHING
Junk Food came onto the scene in 1998 as the original vintage t-shirt company, creating and forever changing the premium t-shirt market. Known for its soft, comfy fabrics and witty art, Junk Food is a celebrity favorite carried throughout the top stores throughout the world. Also a licensing powerhouse, Junk Food has distribution rights to over 800 pop-culture properties across multiple categories including rock & roll, characters, movies, sports, and foods. The brand continues to pave the way for innovation in the fashion industry. From recently launching their first retail stores as QR code walls to creating the first ever t-shirt allowing consumers to register to vote by scanning the graphic with their smartphones, Junk Food is revolutionizing the use of technology in fashion and culture; http://www.junkfoodclothing.com, http://www.facebook.com/junkfoodclothing.
ABOUT LAQUAN SMITH
Right from the start LaQuan was predestined to be a fashion designer. Growing up in St. Albans, Queens he received inspiration from his grandmother. Despite his bout with cancer, his unceasing, constant devotion to fashion never wavered. After high school, LaQuan attended Nassau Community College, and studied apparel design. His internship at Blackbook magazine, gave him the unique opportunity to study women, and how they respond to what they wear. Despite his lack of formal education LaQuan's keen eye and natural talent catapulted him into the fashion world. He has been featured in many different magazines, including Marie Claire, Essence, Paper magazine and Vogue, which described him as the new up and coming designer. The New York Times said "he is someone to watch". LaQuan's global designs have been featured in New York, Paris, South and West Africa LaQuan's approach to fashion is positive, sincere, honest and sometimes very sensual.
His bold insight to what women like has keep him dressing celebrities like : Lady Gaga, Rihanna, Beyoncé Kelly Rowland, Alexa Chung, Rita Ora, Actress Paula Patton, Jennifer Lopez, Tyra Banks, Amber Rose, Sessilee Lopez, fashion personality Andre J., Nikki Minaj, and the list goes on.
ABOUT SYNDERELA
Synderela stands behind every dress with love. Synderela is a place where people can be creative and change the industry for the better, a place where the people have integrity, a place where women are valued and their opinions matter, a place where women come and feel at home, a place where we learn from the lessons of our past, stand for something greater than the present and bring our beliefs into the future. Synderela believes you should love what you create because love = opportunities. Synderela believes in sharing its love through its designs. One heart, one mind, one dress at a time.
ABOUT TABII JUST
Tabii Just is a zero-waste clothing line that is made in New York City. Co-founder and designer, Tabitha St. Bernard experienced a greater awareness of the role of clothing in the world when she learned that 15 percent of the fabric used to make clothing is usually discarded and ends up in landfills. She wanted to make a difference. Tabii Just seeks to waste absolutely no fabric. The excess fabric from Tabii Just clothing is used to make shopping bags, makeup bags, pocket squares, and more. Tabii Just is proof that eco-conscious clothing can be chic and flattering to the female body while maintaining a sustainable approach. Tabitha draws inspiration from her homeland of Trinidad and Tobago, which results in clothing that blends a Caribbean flair with Brooklyn edge, complete with vibrant prints and pops of brilliant color.
ABOUT MICHELLE VALE
Michelle Vale, Made in New York—an accessories brand which appeals to women who embrace individuality and appreciate versatile, sophisticated, and distinct design—was founded in 2006. We are the first brand to create handbags with custom removable hardware, offering women the unique ability to change the color of hardware and carrying options. Our removable gargoyle, meant to stave off evil, can be added to any of our totes. Extremely passionate about locally made, Michelle Vale co-founded the "Make it in Manhattan" business initiative which includes documentary, networking events, and the blog, http://www.makeitinmanhattan.tumblr.com .
ABOUT THE HIGH LINE AND FRIENDS OF THE HIGH LINE
The High Line is an elevated freight rail line transformed into a public park on Manhattan's West Side. It is owned by the City of New York, and maintained and operated by Friends of the High Line. Founded in 1999 by community residents, Friends of the High Line fought for the High Line's preservation and transformation at a time when the historic structure was under the threat of demolition. It is now the non-profit conservancy working with the New York City Department of Parks & Recreation to make sure the High Line is maintained as an extraordinary public space for all visitors to enjoy. In addition to overseeing maintenance, operations, and public programming for the park, Friends of the High Line works to raise the essential private funds to support more than 90 percent of the park's annual operating budget, and to advocate for the transformation of the High Line at the Rail Yards, the third and final section of the historic structure, which runs between West 30th and West 34th Streets. For more information, visit http://www.thehighline.org .
###
Media Contacts
Nancy Schuster: Karmela Alperez
(732) 331-7322
karmela(at)caravanstyliststudio(dot)com
Friends of the High Line: Ashley Tickle / Erycka Montoya Pérez
(212) 206-9922
press(at)thehighline(dot)org