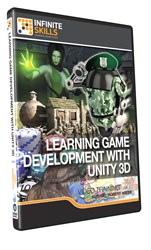 Discover Game Development with Unity 3D at your own pace.
(PRWEB) August 23, 2013
Software training firm Infinite Skills Inc. last week introduced its "Learning Game Development With Unity 3D Tutorial," an introductory course exploring basic navigation, user interface, and fundamentals of 3D modeling with the Unity platform.
Unity is a cross-platform game engine used to develop games for web plugins, desktop platforms, consoles, and mobile devices. Currently used by over one-million developers, Unity is unique in its ability to combine multi-platform capability with a seamless workflow.
Infinite Skills' "Learning Game Development With Unity 3D Video Training," focuses on developing the fundamental skills for creating and animating 3D characters, teaching essential techniques and toolsets for anyone getting started with game development.
Learning Game Development with Unity 3D Training - DVD
Course author Robert Wiebe spent most of his career as a programmer and systems analyst, developing and managing computer systems for major companies and government institutions. When Wiebe began to shift his focus to game development, he explored a number of game engines before finally settling on the Unity system, preferring its well-designed and intuitive workflow design as well as its cross-platform capability.
Having written two books on Unity and Apple's iOS platform, Wiebe's expertise brings a rich understanding of application development to the table, providing new users with the perspective and insight of a veteran programmer, as well as tips from an experienced Unity developer.
After laying out the basics of working in Unity, explaining how to efficiently navigate the Unity user interface, Wiebe explains the basics of working with Unity objects, covering tools for selection, movement, scaling, and parenting, among others.
The course then explains how to import and export assets such as 3D models from other programs, audio clips, and 2D images for use in building a game's basic scene.
Wiebe then dives in to game creation, beginning with scene design, where users will work with the physics of rigid and soft bodies and how to populate the scene with objects. He then quickly moves into combining assets into 3D models, scripting object behavior, and finally animating your character.
"The great thing about Unity," Wiebe says," is that, without any coding we can bring our character to life by graphically creating the state machine that blends captured motions together."
The course closes with chapters devoted to applying final touches, fine tuning your game with a graphical user interface, controlling lighting features to make your characters movements within a scene look realistic, and the logistical details of controlling settings for use across multiple platforms.
Free demo videos and a full list of course contents can be found on the Learning Unity 3D Game Development Tutorial training page of the Infinite Skills website: http://www.infiniteskills.com/training/learning-game-development-with-unity-3d.html.
Infinite Skills offers its Learning Unity 3D Game Development Video Tutorial either as a DVD or a direct download from the company website at a retail price of $99.95. All InfiniteSkills titles and formats are compatible with both Mac and Windows operating systems, and shipping is available around the globe. InfiniteSkills tutorials are supported by project files which correspond to examples in the videos.
About InfiniteSkills Inc.
A leader in the field of software training, Infinite Skills strives to offer the highest quality training available at an affordable cost. InfiniteSkills tutorials are task-oriented instructional videos, teaching complex skills by providing hands-on examples, guiding users as they carry out critical objectives. InfiniteSkills offers a comprehensive range of software titles available as DVDs, digital downloads, and iPad editions, keeping with company aim of delivering professional training to customers anywhere they want to learn.