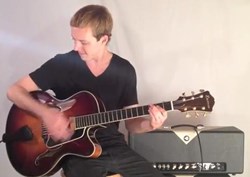 Los Angeles, CA (PRWEB) August 22, 2013
Despite never taking a solo in a career of more than 50 years, Green is one of the greatest players of all time. He usually played three-note chords on the guitar's lower strings, one chord per beat, with a springy "chunk-chunk" sound that is instantly recognizable. In his hands, the guitar became like a tuned percussion instrument. To project his unamplified Gibson archtop, he is reputed to have used very heavy strings (beginning with .014) with very high action (i.e., set far off the neck).
Jon Maclennan demonstrates an F major chord scale (F major7–G minor7–A minor7–Bb major 7–C7–D minor 7–E minor7b5) using only the third, fourth and sixth strings. The other unplayed strings can be muted with the fingers of the picking hand. He emphasizes Green's characteristic metronomic right-hand strumming. Printable notation and tabs accompany the lesson. After learning this guitar chord progression, players are encouraged to seek out jazz standards or blues songs to apply the style to.
Players new to these Freddie Green jazz guitar chords should start slowly, using a metronome or click track to stay in time and gradually build up speed.
Enjoy and learn more from Jon and all the teachers at Guitarcontrol.com in dozens of free jazz guitar lessons at http://www.youtube.com/guitarcontrol.
GuitarControl.com, a leader in online music education, is the brainchild of ace Philadelphia guitarist Claude Johnson. Since its launch in 2004, the site has offered lessons taught by virtuosos in styles ranging from rock, metal and blues to jazz, bluegrass and country to classical, flamenco and fingerstyle acoustic. Its many DVD courses include Supercharged Soloing Made Simple, Larry Coryell Jazz, Fast Track Guitar System, Wicked Chicken Pickin' Chops, How to Play Smokin' Blues Guitar, Killer Lead Guitar Made Simple and Gospel Guitar, as well as courses for singers, drums, bass and keyboard, and music software, song collections and jam tracks.