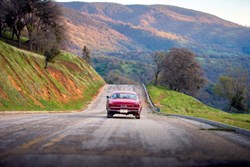 "I love driving across country. It's just the excitement of the open road. Sort of like being the last American cowboy," said Gordon.
Rockleigh, N.J. (PRWEB) August 22, 2013
With nearly three million miles on the odometer of a Volvo P1800 he bought new in 1966, Irv Gordon has traveled the vast majority of America's interstates, highways and side roads. Memories of past trips inhabit his dreams at night, and ideas for future trips occupy his plans during the day as new adventures take shape.
Join Gordon for a look at his top 10 routes, one of which will take place in September 2013, and another as soon as a really long bridge gets built in the Pacific Ocean.

Long Island Expressway. The "World's Longest Parking Lot" is Gordon's home turf, and he is well acquainted with the route as a commuter and sightseer in his own neighborhoods. As Gordon is fond of saying, "It's not about getting to the three million miles. It's about the trips that got me to the three million miles." A lot of those trips started right here.
U.S. Highway 1. Running the length of the Atlantic seaboard, U.S. 1 is best experienced at a leisurely pace. Gordon has enjoyed its scenic marvels many times and has crossed into Canada as well. In 1985, he drove to St. John's just to see a tidal bore. "I had just seen the tidal bore in a movie and I decided to head north more than 1,500 miles to see it in person."
Route 66. The Mother Road holds a unique place in American culture and in Gordon's life. He says, "I love driving across country. It's just the excitement of the open road. Sort of like being the last American cowboy." Far from solitary, this cowboy has shared his journeys with many friends. In, 2005, he joined the Dutch Volvo Club in California as they completed a tour of Route 66 in their vintage Volvos.
Interstate 80. Drive west from New Jersey on I-80, and in 2,900 miles you'll find yourself in the City by the Bay. Gordon made that trip in 1985, just for a cup of coffee. "I heard about a new diner opening up in San Francisco," He explains, "and simply couldn't resist the urge to go to visit the Fog City Diner. After a fantastic cup of coffee, I took in a few sights (Alcatraz, Muir Woods, etc.) and traveled along the entire Pacific Coast Highway before heading home."
Interstate 40. This is the third longest east-west highway in the United States, and Gordon knows it well. A highlight is Tennessee barbeque, which he loves. "The style and taste of barbecue varies state-to-state. But with Knoxville, Chattanooga, Nashville and Memphis each offering distinct flavors, I'd say Tennessee has the overall best barbecue."
Lincoln Highway. In 2013, as Gordon celebrates driving three million miles, the Lincoln Highway will celebrate an achievement of its own when it turns 100 years old. During the past half century, he has enjoyed seeing the country from this historic route many times. Road wisdom from Gordon: "There's so much to see and do in this country. Unless you've had the opportunity to have a little taste of it, you really don't know what you're missing."
Pacific Coast Highway. Few routes worldwide offer such distinctive and magnificent scenery. It's tough for Gordon to pick favorites on this drive, but he will concede "the best part is the northern California stretch, after you're out of the big cities and the road starts to get rough and windy. There are no traffic lights, just curves and waves breaking against the coves below."
The entire state of New Hampshire. Why is it called the Granite State? It doesn't feel that way to Gordon. "New Hampshire has the friendliest drivers. I'm well out of New York's busy highways by then, and it seems like I leave the stress at the state line. Drivers are courteous. They'll switch lanes with their turn signals, let me merge and even wave at me. It's just a friendly, beautiful state."
Alaska. Here's where Gordon's odometer changes from 2,999,999 to 3,000,000. Mark your calendar for September 2013. He has visited all 48 continuous states, but the one time he was headed for Alaska a slight fender bender derailed his plans. Is the Land of the Midnight Sun really the last frontier for Gordon and his Volvo P1800? Maybe not. There's one more dream drive to go.
Road to Hana, Hawaii. He's often said he'll get to Hawaii when it's connected by bridge to California, but perhaps an ocean liner is the more practical solution. Gordon is well known for saying, "You only get a chance to go around once. You might as well see all you can while you're here." No doubt, he'll find a way to get his Volvo P1800 to Hawaii and drive the Road to Hana.
Gordon began a movement when he drove off the Volvoville lot in 1966, and that movement continues to grow through the collective experience and passion of current Volvo owners. As Gordon approaches the milestone, Volvo Cars of North America (VCNA) is bringing the nation along for the journey with a special campaign. Consumers can visit 3MillionReasons.com for additional information about Gordon's story and are also encouraged to submit their own favorite destinations, dream drives and memorable moments on the road.
This month, @VolvoCarsUS will be holding their monthly Twitter Chat series – #SwedeSpeak – featuring Irv Gordon, Volvo's 3-Million-Mile Man himself. The chat will be held on Tuesday, August 27th from 2-3 p.m. EST. To join the discussion, follow @VolvoCarsUS on Twitter (http://www.twitter.com/Volvocarsus) and use the hashtag #SwedeSpeak to follow along. Feel free to ask Irv anything.
# # #