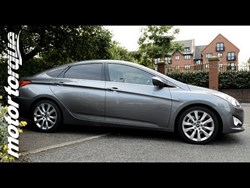 Liverpool (PRWEB UK) 23 August 2013
On the YouTube channel, MotorTorque put the Hyundai i40 saloon under the microscope in this video review, testing everything from appeal and performance before giving an overall rating using 'MotorTorque stars'.
The sister model to the i40 Tourer estate, the Hyundai i40 is a medium-sized family car that is also great for business drivers.
Within this sector are already established vehicles, such as the Ford Mondeo and Vauxhall Insigina, which make for stiff competition for the i40 saloon.
Even in the lower trim levels, MotorTorque's Kris McDonald found that there was plenty of kit, as standard, such as 16-inch alloys and Bluetooth with voice recognition.
There are also lots of standard safety features, including electronic stability system and hill start assist, which MotorTorque thought would bring great peace of mind to families.
MotorTorque was impressed with the design of the car and the quality of the interior – the headlights got a particular mention as being 'space-aged'.
To find out more about what Kris McDonald and MotorTorque thought of the Hyundai i40 saloon, watch the video review on the MotorTorque main website: http://www.motortorque.com/videos/new-car-reviews/hyundai-i40-saloon-review-22875.aspx.
Contact MotorTorque:
Simon McBride,
Editor
MotorTorque.com
1st Floor Beetham Plaza,
25 The Strand,
Liverpool,
L2 0XJ
Tel: +44 (0)844 445 7862
Email: simon.mcbride(at)motortorque(dot)co.uk