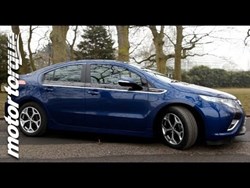 Liverpool (PRWEB UK) 23 August 2013
The Auto Network's MotorTorque team has released a video review for the Vauxhall Ampera.
Having been a favourite of football stars such as Liverpool FC's Glen Johnson and Everton FC's Phil Jagielka, MotorTorque is very excited to release its new Ampera video review.
The Ampera is one of Vauxhall's AFVs (alternative fuel vehicle). The award-winning hatchback definitely stands out from its usually boring looking rivals with its boomerang headlights and sporty alloys.
Commuters will particular enjoy its premium looking interior. In addition, the battery can also last up to 50 miles when fully charged, making it easy enough to drive to and from work.
Its impressive list of standard equipments makes sure you get a lot for your money. Kris gives a run through of all the equipment in it and rates the Ampera against a number of standards.
To see what MotorTorque thought of the Ampera's practicality and performance, visit the website, http://www.motortorque.com/videos/new-car-reviews/vauxhall-ampera-review-22813.aspx .
Contact MotorTorque:
Simon McBride,
Editor
MotorTorque.com
1st Floor Beetham Plaza,
25 The Strand,
Liverpool,
L2 0XJ
Tel: +44 (0)844 445 7862
Email: simon.mcbride(at)motortorque(dot)co.uk