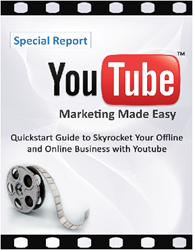 Where else can you get free advertising where people watch 6 billion hours of video each month? YouTube marketing is free and massively powerful.
(PRWEB) August 22, 2013
Business owners and marketers looking to make better use of one of the top three websites in the world, YouTube, can download this new report sharing several effective YouTube marketing techniques. The report is an introduction to more in-depth training in a new re-brandable private label product on YouTube video marketing. Business owners or marketers learn how to leverage the visibility of YouTube for promotions and branding. They can also use the material for in-house training on YouTube marketing or resell it to their own clients.
YouTube simply is the greatest video-sharing website ever and anyone can use it to promote, sell, train or connect with viewers interested in their offers. Another big plus is since Google owns YouTube, video rankings aren't subjected to the quirks of search algorithm changes that have negatively impacted so many websites in the past.
Google is actively investing in YouTube and while it does offer paid advertising options, there are tremendous opportunities in unpaid advertising using YouTube. Just look at these statistics:

Over 700 YouTube videos are shared on Twitter each minute
100 million people take a social action on YouTube (likes, shares, comments, etc.) every week
There are 500 tweets per minute containing a YouTube link
More than 50% of videos on YouTube have been rated or include comments from the community
Mobile makes up more than 25% of YouTube's global watch time, more than one billion views a day
Over 6 billion hours of video are watched each month on YouTube—that's almost an hour for every person on Earth and 50% more than last year
Get in the know with this free video marketing report provided by the team at PLRPump.com.
About PLRPump.com
The PLRPump.com website is a leading marketing resource online for website owners, entrepreneurs and others looking for unique content to use for rapid product development. A website should be another marketing asset contributing to sales and overall profit. Start connecting with visitors to your website with great content. Download a complimentary copy of this video marketing report today before the Early Bird sale is no more!