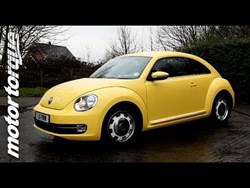 Liverpool (PRWEB UK) 22 August 2013
The new VW beetle has been redesigned to target the male market as it has previously been considered a female orientated car with its old flower holder and hippy style. Does the sportier design reflect on its ride and handling though?
Competing with the Citroen DS3 and Fiat 500, the VW Beetle is larger than both yet still very stylish. The interior manages to hold on to its retro looks with its body colour dashboard - the Fender speakers are also a nice touch to give the car more character.
Kris McDonald tests out the stylish Beetle on performance and it doesn't disappoint considering its large size. He also takes the car through tests to see how it handles in the city.
The Beetle can try to be more butch but it is still, effectively, a cute car that is more suited for city driving. However, has the driving experience improved on its flower-power motor?
To see what MotorTorque thought about being behind the wheel of the Beetle, as well as to view more video reviews on the latest automotive releases, visit the website http://www.motortorque.com/videos/new-car-reviews/volkswagen-beetle-review-22514.aspx .
Contact MotorTorque:
Simon McBride,
Editor
MotorTorque.com
1st Floor Beetham Plaza,
25 The Strand,
Liverpool,
L2 0XJ
Tel: +44 (0)844 445 7862
Email: simon.mcbride(at)motortorque(dot)co(dot)uk