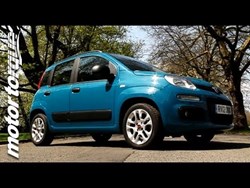 Liverpool (PRWEB UK) 22 August 2013
First arriving on our roads in 1980, Fiat is now releasing the third-generation Panda model. Keeping its quirky and original 'squircle' design inside and out, this makes its boxy style a bit funkier.
Even though it is a 4x4, the Panda is a great car for the city as it's small and fairly practical. The raised seating position also provides an advantage while driving.
As with its namesake, the Panda is a cute car that still puts up a good fight in its sector. MotorTorque gives the model a great overall review in its latest video, after focusing on the car's handling, performance, appeal and ride.
To see MotorTorque's new Fiat Panda video, along with its other video reviews, visit its website: http://www.motortorque.com/videos/new-car-reviews/fiat-panda-review-22530.aspx .
Contact MotorTorque:
Simon McBride,
Editor
MotorTorque.com
1st Floor Beetham Plaza,
25 The Strand,
Liverpool,
L2 0XJ
Tel: +44 (0)844 445 7862
Email: simon.mcbride(at)motortorque(dot)co.uk