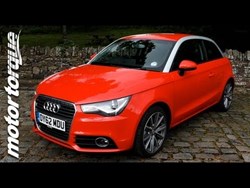 Liverpool (PRWEB UK) 22 August 2013
MotorTorque's Kris McDonald took the A1 for a spin in the video, seeing if it can compete with its supermini rivals.
Sporting the four rings means that customers expect high quality and reliability throughout Audi's fleet and this is no exception with the A1. The sporty shape makes it an easy choice for motorists who want to buy from the premium market. The German styling and cool options are also great for its young target market.
As the Audi A1 scooped the 'What Car? Car of the Year' award back in 2011, Kris put it to the test to see if it gets the MotorTorque stamp of approval. He found that the Audi A1 is a fun drive and practical too, especially against competitors such as Mini.
To see how Kris rated the Audi A1 in each of the review categories, visit MotorTorque's website
:http://www.motortorque.com/videos/new-car-reviews/audi-a1-review-22659.aspx to view the video – along with other video reviews.
Contact MotorTorque:
Simon McBride,
Editor
MotorTorque.com
1st Floor Beetham Plaza,
25 The Strand,
Liverpool,
L2 0XJ
Tel: +44 (0)844 445 7862
Email: simon.mcbride(at)motortorque(dot)co(dot)uk