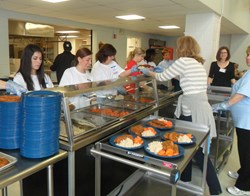 Paterson, New Jersey (PRWEB) August 26, 2013
Eva's Village (http://www.EvasVillage.org), a comprehensive New Jersey anti-poverty charity, will honor BD at its 2013 Annual Benefit Gala. BD, a leading global medical technology company, has been collaborating with this widely respected anti-poverty organization for eleven years providing support and service to Eva's Village for several of its programs. BD's Social Investing Programs advance the company's purpose of helping all people live healthy lives through longstanding relationships with nonprofit organizations. "It is an honor to be recognized by Eva's Village, which is such an important contributor to advancing the well-being of so many Paterson-area residents," said Richard Naples, Senior Vice President, Regulatory Affairs, BD. "We strive to be a good corporate citizen in the places we do business, including our New Jersey base, and we're pleased to support Eva's essential programs. It's a great collaboration."
For thirty years, Eva's Village has been providing comprehensive services such as free meals to New Jersey's hungry, shelter to New Jersey's homeless, intensive inpatient treatment for New Jersey's addicted and free medical care to New Jersey's uninsured. As the country continues to recover from the recent recession, programs at Eva's Village continue to see an increase in demand for their services. In 2011 Eva's Kitchen, one of New Jersey's largest soup kitchens, enlarged its dining area from 240 seats to 400 to accommodate the increased demand. In 2014 they will be opening a culinary school to help individuals develop job skills for careers in the food service industry.
Donna Marie Fico, Director of Marketing and Education at Eva's Village, notes that the 2013 Benefit Gala for Eva's Village is subtitled 'Visions of Hope'. "We are pleased to honor BD for its eleven years of support and service to Eva's Village," she states. "BD employees have been volunteering at Eva's Village for many years both in our Community Kitchen and in our Workforce Development Program and have funded our Community Kitchen and Eva's Village Healthcare clinic. They have also participated in our summer carnival, assisted with the holiday bazaar and playground build, painted our transitional shelters, sponsored a bedroom in the Hope Residence for Mothers and Children, and conducted numerous collection drives, including one for business attire, which was very successful."
Each year, the Eva's Village Annual Benefit Gala provides a critical funding source to the many programs that make Eva's Village so critical to those in need, and each year it identifies additional needs for those in its community. This year the Gala attendees will learn about the changes in Eva's Community Kitchen Program and The Culinary School at Eva's Village, as well as the modifications to its education program at Hope Residence.
"I continue to be amazed at the level of support and hands on service local corporations like BD provide to Eva's, aiding so many and touching our clients on a very personal level," states Marie Reger, Executive Director. To demonstrate that Eva's Village meets donor expectations, she reports that the organization has received high marks for efficiency, including a Four-Star rating for six years consecutively by Charity Navigator, indicating that Eva's Village "exceeds industry standards and outperforms most charities in America," (Charity Navigator).
For more information on the "Visions of Hope" Gala Dinner (November 7, 2013), honoring BD, contact: Joey Mazza, Special Events Coordinator – Phone: (973) 523-6220 Ext. 235 Fax (973) 825-7297. The Eva's Village Annual Benefit Gala will be held at The Grove, Cedar Grove, New Jersey.
To donate to this NJ Charity, or for more information about Eva's Village, call (973)-523-6220, go to http://www.evasvillage.org or write to: Donna Fico, Director of Marketing & Education, Eva's Village, 393 Main Street, Paterson, NJ, 07501.
For more information about BD, please visit http://www.bd.com.
About Eva's Village:
Eva's Village (http://www.evasvillage.org), originally a New Jersey soup kitchen, was founded in 1982 by Msgr. Vincent E. Puma in response to the increasing incidence of homelessness in his Paterson, NJ parish. But Msgr. Puma soon realized that a soup kitchen was not enough. With the generous support of thousands of donors and private and government grants, Eva's has grown to be the most respected anti-poverty program in New Jersey. Their mission is to feed the hungry, shelter the homeless, treat the addicted and provide medical and dental care to the poor with respect for the human dignity of each individual.