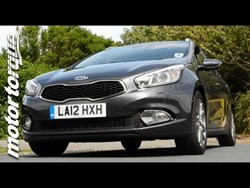 Liverpool (PRWEB UK) 23 August 2013
The Kia pro_cee'd is a sporty hatch from the Korean manufacturer and features a rather mean looking grille. 
It's the sportiest car Kia has ever produced and MotorTorque found that it was fairly premium feeling when inside. 
Reviewed in a daring orange colour, Kris McDonald thought it suited the personality of the pro_cee'd, which is up against the likes of the Vauxhall Astra in its sector.
Although, MotorTorque felt it wasn't quite a 'hot hatch' and was more of a 'warm hatch', Kris and team did feel it could hold its own against some of its rivals. MotorTorque was excited for the release of the GT version, which would provide more powerful performance levels and better ride and handling.
Kia may not be the initial brand of choice for some buyers but it certainly is on the cusp of a turning point and the new design of the front of its vehicles will help makes its presence known on the roads.
Watch the full video review on MotorTorque's site to discover what rating the Kia pro_cee'd received:
http://www.motortorque.com/videos/new-car-reviews/kia-ceed-sportswagon-review-22776.aspx
Contact MotorTorque:
Simon McBride,
Editor
MotorTorque.com
1st Floor Beetham Plaza,
25 The Strand,
Liverpool,
L2 0XJ
Tel: +44 (0)844 445 7862
Email: simon.mcbride(at)motortorque(dot)co(dot)uk