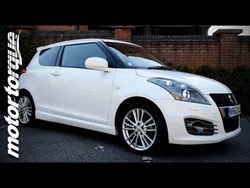 Liverpool, UK (PRWEB UK) 23 August 2013
Described as peppy, sporty and cool by MotorTorque, the Suzuki Swift Sport is a great low-cost, efficient and safe hatchback.
Emulating the style of its biggest competition, the VW Golf, the Swift Sport was described as 'rising star' for Suzuki by MotorTorque.
MotorTorque found the Suzuki Swift Sport to be the little car that packs a big punch, as it handled the roads superbly and made whoever behind the wheel leave with a smile.
A cheaper alternative to some of the hot hatches out there, the Suzuki Swift Sport is going to be popular among younger drivers.
MotorTorque thought that it simply looked cool while still providing the goods when it came to driving enjoyment yet still remained practical for everyday use.
Discover how many 'MotorTorque stars' the Suzuki Swift Sport received by watching the MotorTorque video review either on the website: http://www.motortorque.com/videos/new-car-reviews/suzuki-swift-sport-review-22697.aspx .
Contact MotorTorque:
Simon McBride,
Editor
MotorTorque.com
1st Floor Beetham Plaza,
25 The Strand,
Liverpool,
L2 0XJ
Tel: +44 (0)844 445 7862
Email: simon(dot)mcbride(at)motortorque(dot)co(dot)uk
Contact The Auto Network:
Richard Wood,
Head of Digital Marketing,
The Auto Network,
1st Floor Beetham Plaza,
25 The Strand,
Liverpool,
L2 0XJ
Tel: +44 (0)844 445 7862
Email: richard(dot)wood(at)theautonetwork(dot)co(dot)uk