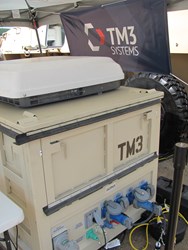 "Since 2012, NextEnergy and mc2 have collaborated on a number of activities to accelerate innovation of vehicle development for defense applications." Jean Redfield, President and CEO, NextEnergy.
Sterling Heights and Detroit, Mich. (PRWEB) August 22, 2013
General Dynamics Land Systems Maneuver Collaboration Center (mc2), NextEnergy and TM3 Systems successfully completed a microgrid technology demonstration in July at General Dynamics Land Systems' headquarters in Sterling Heights.
The collaboration used a General Dynamics Land Systems' Electric Drive (eDrive) 8x8 armored vehicle and a Tactical Modular Mobile MicroGrid (TM3) power system from Royal Oak, Mich.-based start-up TM3 Systems to enable remote power generation and distribution. In this demonstration, the eDrive vehicle's propulsion system generated electricity that was exported to a modified prototype microgrid system built by TM3 Systems. The microgrid system then stores, converts and distributes the appropriate power output required to support remote military installations and disaster relief efforts.
"Since 2012, NextEnergy and mc2 have collaborated on a number of activities to accelerate innovation of vehicle development for defense applications," said Jean Redfield, President and CEO, NextEnergy. "With support from the Michigan Economic Development Corporation, we established a new program to integrate the TM3 Systems technology with the eDrive vehicle to accelerate the delivery and improve management of grid quality power."
"General Dynamics' Maneuver Collaboration Center is about firsts: First in collaboration and first in innovation," said Sonya Sepahban, senior vice president, engineering, development and technology for General Dynamics Land Systems. "This initiative between a small startup, a not-for-profit and a large defense contractor – to integrate an energy-conserving technology on an accelerated development schedule – is certainly a first for the community and a great business model that we intend to replicate."
"This collaboration was a great opportunity to demonstrate what can happen when an industry leader like General Dynamics Land Systems leverages the unique capabilities of mc2 to collaborate with innovative organizations like TM3 Systems and NextEnergy," said Nate Lowery, CEO, TM3 Systems. "We were able to leverage the strengths of all parties to demonstrate a sophisticated solution in a short period of time and are grateful to the MEDC for its support and to NextEnergy for bringing the team together."
In addition to the demonstration at General Dynamics Land Systems' facility, the team successfully powered a command center during the 100-year anniversary of Camp Grayling on July 20, 2013, in Grayling, Mich. Camp Grayling provided an ideal environment to showcase the mobile microgrid capabilities and demonstrate how the product can help minimize logistics within deployments and support critical humanitarian and disaster relief efforts.
The team plans to build on this demonstration with the goal of making this capability available for use in the field.
About General Dynamics Land Systems
General Dynamics Land Systems, a business unit of General Dynamics, is a global leader in the design, development, production, support and enhancement of tracked and wheeled military vehicles for the United States and its allies. For more information, visit http://www.gdls.com
About NextEnergy
Founded in 2002 as 501(c)(3) nonprofit organization, NextEnergy is one of the nation's leading accelerators of advanced energy technologies, businesses and industries. NextEnergy drives technology demonstration and commercialization; delivers industry and venture development services; and provides an authoritative voice in the public sector. Since its inception, NextEnergy has helped attract more than $1 billion of new investment in the state of Michigan, including programs in excess of $150 million in which NextEnergy has directly participated. For more information, visit nextenergy.org.
About TM3 Systems
TM3 Systems, Inc., was launched in 2012 as the premier developer of mobile microgrid power management systems for use in remote locations to reduce fossil fuel consumption while increasing power quality and reliability. TM3 Systems' products, which can be monitored and controlled remotely, manage up to 360kW of load in the field and enable future DC drive vehicles such as the eDrive vehicle to interface with mobile microgrids. TM3 Systems has had past projects with TARDEC and the Defense Logistics Agency (DLA) and current opportunities are being pursued both within and outside of the defense sector.
TM3 systems was launched in 2012 to commercialize microgrid technology developed by Coritech Services as part of a NextEnergy-led U.S. Department of Defense program. For more information, visit tm3systems.com.