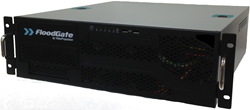 MPEG1-to-AC3 audio translation options available for EdgeQAMs and Transcoders
Slinger, WI (PRWEB) August 23, 2013
VideoPropulsion® (OTC:VPTV) has expanded the Company's industry leading FloodGate® family of HDTV head-ends for hotels by adding MPEG1 to AC3 audio translation for standard definition (SD) digital content. The low cost feature is available on the VideoPropulsion FG-4800 family of Torrent edgeQAMs as well as FG-5400 series of Hailstorm transcoders.
DirecTV® SD content is broadcast with the audio encoded in MPEG1 Layer II (a/k/a MPEG2 audio). Many hospitality as well as residential TVs have or are dropping this as a supported codec in favor of AC3, which is what the US government has now mandated for all imported TVs. Native SD content played on such television sets displays without audio. Translating the MPEG1 to AC3 in the hotel head-end corrects this problem.
"We are proud to announce a solution to the nagging MPEG1 audio shortcoming in many hospitality TVs through the introduction of our MPEG1 to AC3 audio translation options for VideoPropulsion head-end appliances," asserts Carl Pick, VideoPropulsion's Chairman & CEO. "Yet another addition to our digital video products demonstrates our continuing leadership in the North American hospitality industry as the preeminent digital Free-to-Guest supplier."
Among other valuable elements of the entire FloodGate product line is the ability to both anticipate and recover from environmental problems. A system can diagnose and report issues from high room temperature to receiver/tuner failure, and, in the event of a receiver/tuner loss, fail over to a hot standby or retask receivers for lower priority channels.
FloodGate FG-4800 series edgeQAM and FG-5400 series Transcoder appliances began shipping this quarter.
About FloodGate
FloodGate appliances from VideoPropulsion bring hospitality HDTV programming from satellite, and cable television MSOs to a variety of hospitality markets and support distribution via RF (coax), IPTV (Ethernet), or wireless (mobile) infrastructures. All FloodGate models automatically encrypt HD channels to meet Hollywood's strict requirements for content protection using standard technologies readily available from commercial hospitality television set and mobile device manufacturers. FloodGate systems can co-exist with most pay-per-view and video on demand systems currently deployed.
About VideoPropulsion
For nearly 40 years, VideoPropulsion has been a world leader in hardware and software for high performance, low cost per stream, digital content manipulation, and has established a reputation for providing unique HDTV, VoD, and IPTV products. The Company offers revolutionary FloodGate satellite and CATV transcryption appliances as well as OEM computer modules for a variety of applications, including streaming, multiplexing, demultiplexing, modulation, demodulation, transcoding, encryption, and splicing MPEG formatted data.
For further information, contact:
Kathy Cain
Vice President of Sales
VideoPropulsion
255 Info Highway
Slinger, WI 53086
(303) 810-8255
sales(at)videopropulsion(dot)com
http://www.videopropulsion.com
VideoPropulsion and FloodGate are registered trademarks, and Torrent and Hailstorm are trademarks of VideoPropulsion Interactive Television, Inc. DirecTV is a registered trademark of DirecTV.