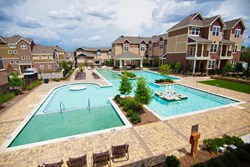 Denton, TX (PRWEB) August 21, 2013
Tonti Properties is excited to announced the completion and full lease-up of 14 Fifty-One in Denton, Texas. It is an institutional-quality, purpose-built student-housing project serving the students of the University of North Texas and Texas Women's University.
"14 Fifty-One has been incredibly well received by the students of Denton, Texas," said Rick Perdue, Director of Acquisitions & Development for Tonti Properties. "Historically, the City of Denton has been underserved with first-class student-housing properties. We are extremely excited to provide a unique living experience to the students of North Texas."
The property is a "cottage-style" community with 478 bedrooms in 123 apartment homes offering classic Colonial and Craftsman architecture in a neighborhood setting. With timeless Brownstone styling, many residences are elevated above-the-street, offering a front stoop with stairways flanked by stone planters and iron handrails. All homes include an HD DVR, Apple TV, pre-wired surround sound and the fastest internet in Denton, to satisfy the technological demands of current students.
"Our goal with 14 Fifty-One was to take the cottage student housing concept to the next level. To accomplish this, we borrowed amenities and features from custom single family construction for the interiors, and mixed classical architectural styles and building types for the exteriors. The result is a student community that looks and feels like a high-end single family neighborhood," said Adam Auensen, Vice President of Development. "This community is designed to be the perennial market leader."
14 Fifty-One is the latest Green Built Texas certified project from Tonti Properties. Interior green features include: Energy Star rated windows, dishwashers, refrigerators and ceiling fans, 13 SEER heat pump HVAC systems with programmable thermostats and CFL lamps installed in all light fixtures, a comingled recycling compactor and water efficient irrigation. During construction, a dedicated "tree-save" area was created and building dimensions were optimized to reduce lumber waste.
"Achieving the Green Built Texas certification and up to 30% energy savings over standard building practices ranks this project among the top performing low-rise residential communities in the country," said Brian Mount of TexEnergy Solutions.
The14 Fifty-One clubhouse is the largest in Denton. With two stories and 11,000 square feet, it features an abundance of flat-screen HD TVs, a 24-hour state-of-the-art fitness center with a separate dance/yoga studio, a business center with floating desktop computers and a separate study/conference room, coffee bar, and convenience kitchen. The upstairs sports lounge includes two billiard tables, Golden Tee, shuffleboard, foosball, kitchen and dedicated theater area with surround sound and plush sectional sofas.
"This is by far the nicest pool and common area in the entire market," stated Andre Wells, Property Manager for 14 Fifty-One. "The resort-style common area includes a best-in-class swimming pool with volleyball, tanning ledges, water features, grills, poolside ping pong, outdoor theater and cornhole court."
The combination of unrivaled amenities, top-of-the-market finishes, exceptional location, unique architecture and meticulous attention to detail ensures that 14 Fifty-One will be the market leader for many years to come.
For more information visit http://14fiftyone.com/.