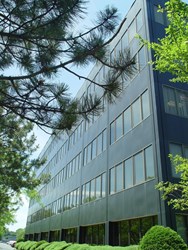 "The Anderson Group, is at the forefront of of making the investments needed to provide the most efficient and productive office space for our tenants," said Andy Anderson, Managing Partner of The Anderson Group
Albany, NY (PRWEB) August 23, 2013
Commercial property management, company, The Anderson Group, LLC, based in Albany, NY, is investing six million dollars to update and renovate several of its commercial real estate properties including 125 Wolf Road, 8 Automation Drive and 292 Washington Avenue Extension.
"Office space requirements have changed dramatically over the past several years and we, at The Anderson Group, are at the forefront of making the investments needed to provide the most efficient and productive office space for our tenants," said Andy Anderson, Managing Partner of The Anderson Group.
The renovations to the properties will not only update the aesthetics of these buildings but more importantly, will incorporate the latest in energy efficiencies to ready these properties for the future. Included in the renovations will be installation of new high-efficiency HVAC systems as well as state-of-the art lighting solutions. "It's all part of our company-wide energy-restructuring plan. Utilities are an extremely significant cost to tenants – we are implementing new technologies that will dramatically reduce energy costs for our tenants," said Anderson. Lighting retrofits completed at 125 Wolf Road in early 2012 led to a 25% decrease in electrical costs in the first year alone.
125 Wolf Road
This property houses 95 executive suites that offer a range of amenities for cost efficiency and convenience, catering to small businesses. Exterior construction is already underway at the Wolf Road property. In coordination with BBL Construction Services, The Anderson Group is re-facing the exterior of the building with new Alucobond metal panels and insulation that have been completely customized for energy efficiency.
8 Automation Drive
This 12,000 square foot property just went through a comprehensive overhaul. Renovations include: a new exterior façade with updated signage, new parking lots and sidewalks, new landscaping, new ceilings and interior common areas that include completely renovated bathrooms and lobby. Both restrooms were fitted with the highest quality materials, including Corian counter tops, and floor-to-ceiling Olympia decorative tile.
292 Washington Avenue Extension
The Anderson Group has completed renovations to this 11,000 square foot property including a re-face to the lobby and corridors and complete overhaul of restrooms as well as exterior face-lift and new parking lot. Included in the restroom renovations were new Corian counter tops with touch less faucets, and floor-to-ceiling decorative Olympia tile. The upgrade to this property includes retrofitting recessed lighting fixtures to more energy-efficient Lithonia brand housings. The replacement lighting fixtures are expected to reduce energy consumption by up to 60 percent.
According to Anderson the re-development project will take about 18 months to complete.
ABOUT THE ANDERSON GROUP — The Anderson Group LLC offers premiere commercial real estate in Albany, NY including office space leasing at outstanding business locations. Experts in office space efficiency, productivity, and profitability, Anderson also offers the free Smart Office Audit to optimize operations and lower occupancy costs http://www.smartofficeaudit.com. The Anderson Group's full services include commercial property management, property development, and brokerage services. Popular executive suites with flexible leases for smaller firms are also available. Founded in 1966 The Anderson Group today has become the Capital Region of NY's most respected authority on creating work communities that are productive and efficient. For more information, visit http://www.tagny.com or call 518 458-7726.