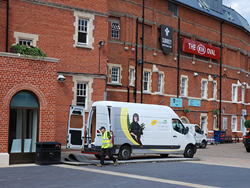 We were delighted to have the honour of decorating the legendary Oval Cricket Ground for the fifth Ashes Test Match.
London (PRWEB UK) 22 August 2013
The final Test match of the Ashes kicked off at the Kia Oval Cricket Ground on Wednesday 21st August, with England eyeing a 4-0 win against Australia.
But it is the exterior flower display that is really causing a stir, with a range of stunning planters positioned across the famous Pavilion.
PHS Greenleaf, the leading supplier of interior plant displays and exterior landscaping in the UK, has been working flat-out to design a display that perfectly complements the architecture of the Oval.
After cultivating an array of plants and flowers in one of the Greenleaf dedicated nurseries, the traditional handmade planters were installed yesterday by the Waltham Abbey Greenleaf team.
Keith Kirkham, Commercial director of PHS Greenleaf, said: "We were delighted to have the honour of decorating the legendary Oval Cricket Ground for the fifth Ashes Test Match.
"Large projects like decorating the Oval require a level of skill and investment that only specialist companies like Greenleaf can provide.
"With over 20 years of experience, PHS Greenleaf was the obvious choice for creating a lavish exterior display.
"Now, all visitors and guests can enjoy the display on the Pavilion as we watch England try to secure a historic 4-0 series victory."
-Ends-
Notes for editors
http://www.phs.co.uk/greenleaf
The PHS Group is a leading workplace services provider, and has traded in the UK since 1963. It has a diverse service portfolio aimed at improving work and leisure spaces, while making life much easier for facilities, building and people managers.
PHS really does 'do more than you think', providing products and services for:

Crate rental and packaging
Interior and exterior planting
Laundry equipment and work wear
Matting and flooring
Records storage and management
Shredding and recycling
Testing and compliance
Washrooms
Waste management
Water machines
Workplace consumables
PHS provides these direct to UK companies, and also operates as a tier one supplier to the facilities management market, supporting the integrated service propositions of most of the major FMs.
The PHS Group's annual turnover for the year ending March 2012 was £422 million. It employs around 5,000 personnel, operates from a wide network of 153 regional service branches, and takes care of over 250,000 customers at over 450,000 locations in the UK, Ireland, Holland, Belgium and Spain.