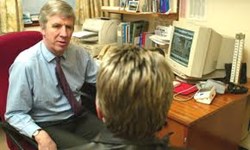 78% of GP's have already had to reduce their opening hours over the past two years, with nearly half having to cut back on the range of services they offer.
Bolton, UK (PRWEB UK) 28 August 2013
As reported in Pulse Today, a CQC investigation has found that over a fifth of GP practices have been found to be non-compliant against at least one essential standard (1). With failures surrounding infection control particularly prevalent, concerns surrounding GP negligence have been raised.
The practices involved in the investigation have been asked to submit actions plans to the CQC, detailing how they plan to achieve compliance (1). With premises and infection control considered the most problematic areas, significant improvements are expected to take place over the next six months.
Published while GP practices are already subject to significant media scrutiny, the CQC investigation is accompanied by reports that GP services are at 'Breaking Point.' Considered by the Independent, figure from the Royal College of General Practitioners have found that eight in ten GP practices believe that they don't have enough resources to provide high-quality care (2).
Dr Clare Gerada, Chairman of the Royal College, made the following statement –
"The profession is now at breaking point and we do not have the capacity to take on any more work without extra funding and resources to back it up. GP's have to grapple with a double whammy of spiralling workloads and dwindling resources"
In the same survey, the Independent reported that 78% of GP's have already had to reduce their opening hours over the past two years, with nearly half having to cut back on the range of services they offer (2).
Considering the statistics, Asons Executive, Laura Williams –
"For most patients GP's are their first port of call for any health worries or concerns, and issues in patient care can contribute to instances of medical negligence further down the line. At Asons Solicitors we often see medical claims that began with an instance of GP Negligence. For example, an Ectopic Pregnancy Misdiagnosis can often escalate because a GP has been pushed for time. Leaving little time for patient care can mean symptoms are missed, preventing the condition from being diagnosed.
It is also important to note, that the CQC investigation highlights issues surrounding infection control; while we are becoming vigilant against hospital acquired infections, it is important that we bear in mind that GP surgeries can carry the same risk of exposure."
If you, or someone you know, have suffered, then you may be able to make a clinical negligence claim for compensation. Taking action can prevent the same situation from reoccurring, helping others to avoid injury in future.
Asons Solicitors deal with GP Negligence claims on a regular basis, you can contact them on: 0844 850 1062 or you can fill out their claim form at asons.co.uk
-Sources-
(1) Pulse Today, 'Fifth of GP practices inspected by the CQC found to be 'non-compliant' (21/08/2013) pulsetoday.co.uk/your-practice/practice-topics/regulation/fifth-of-gp-practices-inspected-by-the-cqc-found-to-be-non-compliant/20004027.article#.UhR9l5LFXiw
(2) The Independent, 'GP services at 'breaking point' with longer waiting times on the way, claims survey' (17/08/2013) independent.co.uk/news/uk/home-news/gp-services-at-breaking-point-with-longer-waiting-times-on-the-way-claims-survey-8772361.html

About Asons Solicitors:
Asons Solicitors is a Bolton-based law practice that specialises in personal injury and industrial disease claims. Founded by brothers Imran Akram and Kamran Akram, Asons Solicitors has developed to become a young and dynamic law firm that delivers practical solutions to clients in times of difficulty. Their continued focus on their staff has seen them awarded with the Investors in People "Gold Award"; which is reflected in the professional and personable approach they take in working with clients. They strive to grow and to develop, and their supportiveness and attention to detail ensures that their clients use them time and again.
For further information contact:
Email: info@asons.co.uk
Website: http://www.asons.co.uk