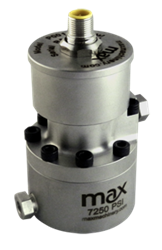 'The P001's output was so ridiculously fast our display could not keep up.'
-- Performance Research & Testing Facility Engineer
Healdsburg, CA (PRWEB) August 22, 2013
Max has been an innovative leader in low-flow measurement for 40 years. As technology has progressed, many of the applications utilizing flow meters have required more data at lower volumes.
This new Revolutionary design has been engineered to offer 4000 pulses per meter revolution and k-factors as high as 24,000 pulses per cc. The P001 boasts flow-rates from 0.005-200 cc/min (based on 100 cps oil), it comes in at half the cost of most Coriolis meters, provides accuracy in intermittent applications, and offers enhanced output resolution with linearized transmitters (designed in house by Max's R&D engineers) that offer adjustable dampening and anti-dither functionality.
Developing the world's smallest radial piston flow meter: Max's P001 Flow Meter was prompted by the voice of mechanical engineers struggling with alternative technologies and needing a meter capable of covering the specific problem of reliably reporting flow rates and totals in the drops per minute range; with the additional ability to measure intermittent flow.
The P001 is in a class of its own, offering a huge turndown at ultra-low flow rates. At the limits of what can be achieved in positive displacement resolution, it offers the ability to accurately measure in the sub 1 cc/min range of flow.
An innovative approach was used in the development and engineering of Max's P001 achieved through a combination of precision miniature machining, and advanced heat treating technologies in conjunction with corrosion resistant materials. As a positive displacement meter, the P001 provides an answer for start/stop flow applications, does not suffer from zero drift, and is insensitive to flow turbulence; making it ideal for:

Research and development
Fuel Measurement
Test benches and calibration stands
Additive and chemical injection
Compared to other micro flow options, the P001 gives high accuracy, immediate response and exceptionally low pressure drop with thicker fluids. Other meter technologies in this flow range only let you optimize for two of those three items.
Every Max meter is calibrated on a state-of-the-art test stand. For the P001, Max Engineers built a custom ram prover to report nearly exact volumetric displacement that is able to provide a calibration reference standard with better than 0.1% accuracy.
This custom verification of each meter, along with the tight tolerances achieved through precision engineering, is why so many Max flow meters are installed in precision applications.