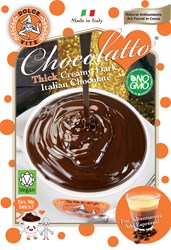 Drinking two cups of hot chocolate a day, such as Chocolatto®, helps boost memory, a study in the American Academy of Neurology has suggested.
New York City, NY (PRWEB) August 22, 2013
Drinking two cups of hot chocolate a day, such as Chocolatto® thick dark Italian hot chocolate cocoa, neurologists say in a study published in the August 7, 2013, online issue of Neurology®, the medical journal of the American Academy of Neurology. This is one of the numerous hot chocolate health benefits.
Research found that drinking hot chocolate cocoa improved blood flow, which has been linked to healthier brains and improved cognition.
Harvard researchers examined 60 people with an average age of 73, who did not have dementia.
Participants drank two cups of hot cocoa per day for 30 days and did not eat any other chocolate.
Of the 60 participants, 18 had impaired blood flow at the start of the study. The results of the study showed that for those participants, there were improvements in blood flow to the brain and in tests of their working memory. After one month, they experienced an 8.3% improvement in flow to working areas of the brain.
Dr Farzaneh Sorond, from Harvard Medical School in Boston, said that scientists are learning more about blood flow in the brain and its effect on thinking skills.
"As different areas of the brain need more energy to complete their tasks, they also need greater blood flow. This relationship, called neurovascular coupling, may play an important role in diseases such as Alzheimer's."
Dr Doug Brown, director of research and development at the Alzheimer's Society, said: "We know that poor blood flow can affect people's brain power because they don't have enough fuel in their brain cells to complete tasks efficiently.
"From this small but interesting study, it seems that cocoa helps improve blood supply to the brain, therefore having a knock-on effect of improving people's cognition."
For more information visit aan.com/PressRoom/home/PressRelease/1200
Dolce Vite Chocolatto make it thick, stay forever young!
About Dolce Vite® LLC
Dolce Vite® is based in Brooklyn, NY and founded by Christina Summers on the principles of the clean-food diet, "Americans are demanding quality food, and Chocolatto® is the Mercedes of the hot chocolate world." Find out more at dolceviteforeveryoung.com and facebook.com/DrinkDolceVite and twitter.com/DrinkDolceVite and youtube.com/DolceViteNYC.
Chocolatto® Italian hot chocolate recipes can be found at dolceviteforeveryoung.com/pages/chocolatto-recipes.
Restaurants and cafés interested in carrying Chocolatto® can email sales(at)dolceviteforeveryoung(dot)com or call 917-50-DOLCE (36523).