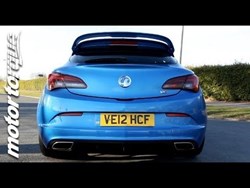 Liverpool (PRWEB UK) 23 August 2013
The souped up, hotter version of the standard Vauxhall Astra goes bonnet-to-bonnet against the Ford Fiesta ST and Renault Megane RS.
From the exterior alone, MotorTorque thought that you could tell how sporty the VXR is and found that this continued into the exterior. Featuring sports seats and steering wheel, the VXR made Kris McDonald want to put the pedal to the metal.
Did MotorTorque find that the performance and handling of the VXR reflected the sporty aspect too?
Vauxhall has ensured that it hasn't forgotten the Astra VXR's hatchback roots and MotorTorque was pleased to find it was really practical too.
MotorTorque knows that that the standard Astra is a great car for daily commuting but wanted to see if the VXR version met this standard too. It seemed that Vauxhall had intended it to be so with the practicality levels.
Watch as MotorTorque puts the Vauxhall Astra VXR through its rigorous testing. You can find the video on the MotorTorque website: http://www.motortorque.com/videos/new-car-reviews/vauxhall-astra-vxr-video-review-22396.aspx.
Contact MotorTorque:
Simon McBride,
Editor
MotorTorque.com
1st Floor Beetham Plaza,
25 The Strand,
Liverpool,
L2 0XJ
Tel: +44 (0)844 445 7862
Email: simon.mcbride(at)motortorque(dot)co(dot)uk