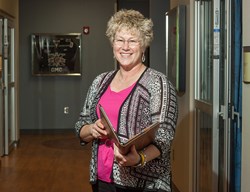 Duluth, Ga (PRWEB) August 22, 2013
To best serve patients impacted by concussion and educate the community, Gwinnett Medical Center-Duluth has recently opened the Concussion Institute. The first of its kind in the southeast, the institute is based on a model that practices a multi-faceted approach to concussion injuries and sports rehabilitation – all under one roof.
The Concussion Institute will be led by Marla Shapiro, a developmental neuropsychologist, and Director Tim Simmons, MHA, ATC, LAT. Patients will also have access to a vestibular therapy, sports medicine, and supervised exertional therapy at the institute.
"While Georgia is making advances in the treatment and prevention of concussions, there is considerable improvement to be made," said Dr. Shapiro, a founding member of the Sports Neuropsychology Society. As a tri-athlete and running coach, Shapiro appreciates the intense desire of athletes to return to the field, in addition to a healthy life, as quickly and safely as possible. Based on this, she will spend considerable time educating coaches, parents and educators, both on and off the field.
"In addition to a multi-disciplinary approach, the institute will offer individual treatment plans, since there is no one approach to concussion treatment," said Dr. Shapiro, who is interested in studying the effects of repeated concussions on brain function and the incidence of concussions by sport and gender.
"Based on GMC-Duluth's offerings, patients no longer have to travel to multiple offices for treatment," said Simmons. "Such coordinated, integrated care is critical to individuals with concussions, who can suffer from symptoms ranging from chronic headaches to dizziness and depression, as well as difficulties with new learning and performance in the classroom.
Housed in the Hudgens Professional Building at Gwinnett Medical Center-Duluth, the institute has eight exam rooms, three therapy rooms, and access to two physical therapy centers in the area. GMC has offered free baseline ImPACT testing to Gwinnett and north Fulton high schools since 2008. For more information about the institute, visit gwinnettsportsmed.com/concussion.
About Gwinnett Medical Center
Gwinnett Medical Center is a nationally-recognized, not-for-profit healthcare network with acute-care hospitals in Lawrenceville and Duluth. Offering cardiovascular, orthopedic and neuroscience specialty care as well as a full continuum of wellness services, GMC's 4,500 associates and 800 affiliated physicians serve more than 400,000 patients annually. To learn more about how GMC is transforming healthcare, visit gwinnettmedicalcenter.org or follow us at facebook.com/gwinnettmedical, twitter.com/gwinnettmedical or youtube.com/gwinnettmedical.
###