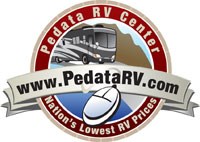 A little wind and dry conditions, and before you know it, half the mountain is on fire.
Phoenix, AZ (PRWEB) August 31, 2013
Pedata RV Center, the leader in used motorhomes for sale, has issued an advisory for campers on how vulnerable to wildfire the wilderness is during the summer, and what precautions can be taken to avoid starting an out-of-control fire.
Summertime is the season when so many families travel in their RVs to get away from the city and into remote areas of the wilderness. The serene environment is very therapeutic to most, and can be an effective stress reliever. However, it is important to remember that during the summer months, as foliage begins to dry out, the landscape becomes extremely susceptible to wildfires, and extra precautions should be taken.
A wildfire (also known as brushfire, wild land fire, forest fire, etc.) is basically an uncontrolled fire that typically occurs in remote areas. Depending on wind conditions, these fires can travel over forty miles in a day, taking down timber like it's made of cardboard. However, wildfires are not bias towards trees and vegetation, they will consume anything in their paths, such as homes, businesses, RVs, etc.
One common cause of wildfires is lightning, and there is nothing that man can do to prevent Mother Nature from acting out. However, and sadly, more than four out of five wildfires are started by the carelessness or maliciousness of man.
Gerard Pedata of Pedata RV Center said, "It doesn't take more than a careless flip of a cigarette butt, or a campfire left unattended or burning at night, to get a fire started. A little wind and dry conditions, and before you know it, half the mountain is on fire. We want to make sure that the camping community is safe. Hopefully they will take a look at this list of tips and follow our suggestions."
Campers should always take precautions against inadvertently starting a fire. They must remember that any small spark can ignite dry grass or timber, and once it's burning, there is practically no stopping it if they are not well prepared. Here are a few things you can do to assure that you are not the cause of a wildfire breaking out.
Have fire-fighting tools on hand, such as fire extinguishers, buckets, shovels, hose (if there is a water supply), etc.
If you are boondocking or dry camping near a lake or river, keep a bucket of water handy, especially if you have a campfire going.
Keep all flammable liquids and materials away from your motorhome, vehicle or tent, just in case a fire does break out.
Completely douse campfires and barbeque pits before retiring for the night, assuring that there are no burning embers left. Cover them if possible as an extra precaution.
If you wear eyeglasses, remember that if left in the sun, they can act as a magnifying glass and start flammable items burning.
Keep all matches and lighters from the reach of children. Although it is intriguing to them, keep kids from playing with campfires, barbeques or any open flame.
Never discard cigarettes anywhere in the open. Be sure to use an ashtray or a bucket of sand to extinguish the butts.
Pedata RV is always keeping their ears close to the tracks to provide campers with helpful information. They want all travelers to discover and enjoy the RV lifestyle, but to do so in a safe fashion.
Pedata RV Center offers used motorhomes for sale, as well as used RVs, travel trailers, fifth wheels, and campers. Their full inventory is accessible online, and due to their low overhead costs they are able to offer competitive pricing in their industry.
For more information on how to find used motorhomes for sale, or current trends in the RV industry, visit Pedata RV Center online at http://www.pedatarvcenter.com .