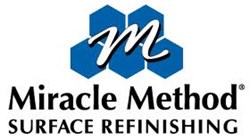 But for franchisees and small business owners, one bad hire can drive the company into the ground. -- Kevin Baumgart, Hireology's director of business development
Chicago, Ill (PRWEB) August 22, 2013
Hireology, the leading selection management platform for distributed enterprises, has been selected by Miracle Method to assist franchisees in the selection and hiring process. By providing users with access to resume and application storage as well as custom interview guides, Miracle Method franchisees will have the necessary tools to make the most qualified hiring decisions.
With over 130 franchise locations, Miracle Method Surface Refinishing is the largest bath and kitchen refinishing company in the country. Given that each franchisee is an independent small business owner, their success is dependent upon the effectiveness of their team. By utilizing Hireology's selection management platform, location owners will have access to custom interview guides, skills assessments and background verification checks. This will enable franchisees to hire employees based on data, rather than a "gut-feeling."
"When hiring, you're taking a calculated risk," said Kevin Baumgart, Hireology's director of business development. "But for franchisees and small business owners, one bad hire can drive the company into the ground. By using Hireology's selection tools, Miracle Method franchisees can feel confident in their hiring decisions."
By helping location owners to screen each candidate's qualifications more efficiently, less time will be spent evaluating sub-par talent and instead these resources can be used to service the needs of Miracle Method's customers.
About Hireology
Hireology's award-winning Selection Management System helps companies organize their hiring process and leverage data to make better hiring decisions. Franchise systems, banks and financial institutions, healthcare systems, dealer networks, and other multi-site operators use Hireology's web-based Selection Manager™ to deliver consistent and repeatable hiring decisions in the field - leading to better hiring decisions, lower turnover, and increased profitability per location. For more information, please visit http://www.Hireology.com/.
About Miracle Method Surface Refinishing
Since 1979, Miracle Method has been the nation's leader in Surface Refinishing. Today the company has 130 offices across the country providing bathtub, tile and countertop refinishing for homeowners, hotels and property managers. To see pictures of Miracle Method's work and to learn more about bath and kitchen makeovers using the refinishing process, visit Miracle Method's web site at http://www.miraclemethod.com.