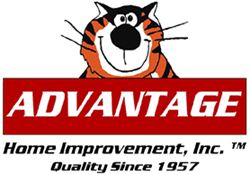 It is good to know that people appreciate what we do, it drives us to keep on working harder for everyone.
Murfreesboro, TN (PRWEB) August 21, 2013
Advantage Home Improvement (AHI) is happy to announce they have been nominated in two categories for this year's Ruthies Awards and look to extend their winning streak. The Murfreesboro home improvement company has been nominated for Favorite Remodeling and Favorite Roofing Company. Last year, the AHI claimed the top spot for Favorite Remodeling Company and has been a runner-up for Favorite Roofing Company a number of years running.
"It is always a great honor just to be nominated for this award," stated AHI Principal Joseph Orange. "Each year we are doing things to improve each of our services and look for ways we can make a bigger positive impact on the Murfreesboro community. It is good to know that people appreciate what we do, it drives us to keep on working harder for everyone."
Advantage Home Improvement has been serving the Murfreesboro and Middle Tennessee areas for more than half a century. They have played a large role in helping Murfreesboro communities thrive and grow through public service efforts, including work with the local Habitat for Humanity center and Middle Tennessee University.
The Ruthies Awards annually recognizes the top people, places and businesses in Rutherford and Cannon counties as voted by county residents. Voting opened for the people's choice awards on August 1 and closes at the end of the month on August 31. Awards are separated into four main categories: Health and Professional Services, Retail and Personal Services, Entertainment & People and Places and Food & Drink. Moreover, each of the four top categories contains several subcategories.
This year, AHI is looking to double up on their Ruthies Awards, winning back-to-back for Favorite Remodeling Company and breaking through to the top spot for Favorite Roofing Company. Those wishing to show their support and appreciation for Advantage Home Improvement can do so by voting for them online at The 19th Annual Ruthies Awards website.
About Advantage Home Improvement
A leading home improvement and remodeling contractor, Advantage Home Improvement offers professional grade services for Nashville, Murfreesboro, Franklin and the surrounding areas. From commercial and residential roofing to kitchen and bath remodeling, Advantage Home Improvement is a proven contractor that can handle a wide range of projects. All of their work is guaranteed by an industry leading workmanship warranty. Founded in 1957, AHI has over 50 years of experience and has built a solid reputation for producing superior workmanship, using quality materials, and providing world-class customer service.