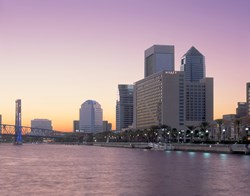 Jacksonville, FL (PRWEB) August 26, 2013
A Jacksonville hospitality employee has been honored as one of the best in her field. Hyatt Hotels Corporation has awarded Dianne Liberty of Hyatt Regency Jacksonville Riverfront the "2012 Catering & Convention Services Manager of the Year" award for the company's large hotel category, which includes 40 properties in North America.
Liberty, a Senior Convention Services Manager, received the prestigious honor for her impeccable service record in 2012. Despite often juggling multiple groups at a time, she maintained perfect service scores for all the organizations she worked with.
"Dianne has an unending dedication to her clients and does everything she can to ensure their events are perfect," said Dan King, general manager of Hyatt Regency Jacksonville Riverfront. "We are lucky to have her as a part of our team."
As a Convention Services Manager, Liberty is responsible for working with groups that are planning meetings, events or conferences at the hotel. She assists them in the planning phase and makes sure everything runs smoothly onsite during events. Liberty has worked for Hyatt Hotels Corporation at properties around the country for more than 30 years.
About Hyatt Regency Jacksonville Riverfront
Nestled along the beautiful St. Johns River in Jacksonville, the Hyatt Regency Jacksonville Riverfront is in the heart of the city's downtown business, entertainment and sports districts and only a few minutes away from more than 20 miles of soft, white sand beaches. Vacation, business and conventions travelers experience unparalleled accommodations with 963 guestrooms and more than 110,000 square feet of flexible meeting and exhibit space anchored by a 28,000-square-foot Grand Ballroom, in addition to outdoor terraces and function space overlooking the pristine St. Johns River.
Jacksonville is home to the Jacksonville Jaguars and the nation's largest urban park system, in addition to more than 45 world-class golf courses and other points of interest nearby. A rooftop pool and whirlpool, deluxe indoor fitness center and sauna, and an upscale lobby bar and restaurant pamper and relax guests who never feel the need to leave the premises. For more information about Hyatt Regency Jacksonville Riverfront or to make a reservation, visit http://jacksonville.hyatt.com.
About Hyatt Regency
Hyatt Regency offers a full range of services and facilities tailored to serve the needs of meeting planners, business travelers and leisure guests. Properties range in size from 180 to over 2,000 rooms and are conveniently located in urban, suburban, airport, convention and resort destinations around the world. Hyatt Regency convention hotels feature spacious meeting and conference facilities designed to provide a productive environment allowing guests to convene and connect. Hyatt Regency hotels in resort locations cater to couples seeking a getaway, families enjoying a vacation together and corporate groups seeking a functional and relaxed atmosphere in which to conduct business and meetings.