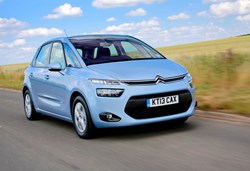 Huge discounts on the fantastic new Picasso means its a class leader
(PRWEB UK) 22 August 2013
Citroen's new C4 Picasso nails the business of 'people-carrying' so well that those in the market for an MPV would be mad to overlook it.
Retail prices start at £17,500 for the base VTi 120 manual VTR however great new car deals from AutoeBid means its on offer from £12,995 and rise to a not inconsiderable £24,455. For that, buyers get the e-HDI 115 ETG6 Exclusive+, which comes with 18-inch alloy wheels, LED rear lights, Park Assist, blind spot monitoring, a panoramic sunroof and even a massage function in the front passenger seat.
Four trim levels are available - VTR, VTR+, Exclusive and Exclusive+. Citroen unsurprisingly estimates that 90% of C4 Picasso models sold will be diesel.
Class-topping luggage space, a new lightweight platform and carbon dioxide emissions fewer than 100g/km (for the e-HDi 90 ETG6 VTR+) are all excellent, but design stands the Citroen out. When did cars in this segment have the right to look this good?
The Citroen doesn't try to disguise itself as anything other than an MPV, so the proportions are a right on. Furthermore, a scything front graphic complete with LED daytime-running lights and a restrained use of chrome means the C4 Picasso has an almost German attitude. And that's a good thing. A lower roofline and shorter overhangs than the previous model aid the C4 Picasso's revamped aesthetic.
Inside it gets even better. The first impression is one of a vast amount of space, something exaggerated by a panoramic windscreen enlarged by sliding the roof-lining back. It must be nigh-on impossible to get car-sick in a C4 Picasso. The next pleasant surprise is the quality not only of the materials that make up this cavernous interior, but also the sturdiness with which they are put together. Expensive textured plastics are in abundance and there's not a rattle to be heard.
Two digital screens dominate an otherwise uncluttered dashboard. A lower touchscreen is responsible for navigation, climate control and multimedia functions while a raised, 12-inch panoramic screen displays driving information. One of the car's six LED-lit storage compartments also houses an audio jack and USB port.
The three rear seats fold down individually and when pushed forward give the C4 Picasso a 630-litre boot capacity. Load length with the front passenger seat folded flat is 2.5 metres. With all seats up boot capacity is 537-litres, 40-litres more than before and the result of a 6cm longer wheelbase.
Dynamically the C4 Picasso performs much as you'd expect. Steering is light, the suspension is extremely well damped and the new car encapsulates the slightly wallowy but serene ride that French cars are famed for. Combine that with the 115bhp turbodiesel found in the e-HDi 115 - that's happy to sit in fourth gear around town (returning an impressive 70.6mpg combined) - and the result is a versatile, calming driving experience.
We'd avoid lower-powered models. With a 140kg weight saving over the old model – thanks to an all-new platform - the shortfall in shove may not be immediately obvious on a short test drive but with passengers and luggage a wheezing engine will become a problem.
Although fuel economy and practicality are at the top of the class, where the Citroen really beats rivals like the Ford C-Max, Renault Scenic and Peugeot 5008 is personality. Elegance belies the car's bulk and a refined interior disguises it's lowly status as a mere people carrier. If you've an antipathy toward MPVs but just happen to need one, this is probably the car for you. There's even a seven-seater Grand Picasso out early next year.
AutoeBid new car deals choice: 1.6 e-HDI 115 VTR+
Comfort 5 stars
Style 5 stars
Handling 3 stars
Depreciation 4 stars
Economy 5 stars